Hotels
Chain hotels in the Yellowstone/Grand Teton area are available in four nearby towns - Cooke City, Gardiner and West Yellowstone, all in Montana, and Jackson in Wyoming.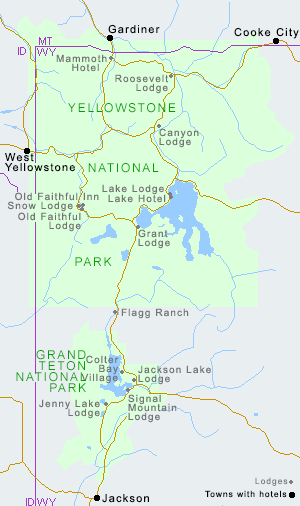 Map of Hotels and Lodges near Yellowstone and Grand Teton National Parks
Cooke City
Cooke City Hotels - descriptions
Gardiner
Gardiner Hotels - map and descriptions
Jackson
Jackson Hotels - map and descriptions
West Yellowstone
West Yellowstone Hotels - map and descriptions
Lodges
Within the two parks are various hotels and lodges, run by Xanterra Parks & Resorts (Yellowstone), and the Grand Teton Lodge Company, plus one separate outlet (Signal Mountain Lodge in Grand Teton NP), all of which offer generally more expensive accommodation that is often fully booked months in advance. Locations are:
Yellowstone
- Canyon, Grant Village, Mammoth, Old Faithful (three lodges), Lake (two lodges) and Roosevelt.
Grand Teton
- Colter Bay Village, Jackson Lake, Jenny Lake and Signal Mountain.