1.
Hampton Inn Sweetwater
302 SE Georgia Avenue, Sweetwater, TX 79556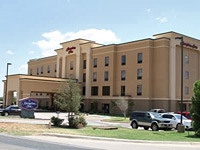 South-facing rooms at Hampton Inn Sweetwater enjoy long distance views across the surrounding, undeveloped countryside - the recently built hotel sits along the southern I-20 frontage road right at the edge of town, though is still within walking distance of several restaurants and a Kmart store. The downtown area is 2 miles north. The hotel features 72 welcoming guest rooms, free hot breakfast, free wi-fi, an indoor pool, a fitness center and a 30 person meeting room.

2.
Holiday Inn Express Hotel & Suites Sweetwater
300 SE Georgia Avenue, Sweetwater, TX 79556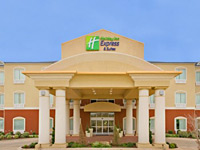 One of several handsome new hotels in Sweetwater, TX, the 67 room/suite Holiday Inn Express is built alongside I-20 in a business district near the south edge of town - just southeast of exit 244 (TX 70; Lamar Street) of I-20, on the frontage road. Sweetwater is a small town about one third of the way from Dallas/Ft Worth to El Paso, and has only a few hotels; its main claim to fame is being the site of the world's largest rattlesnake round up. Facilities of the Holiday Inn Express are an indoor pool, spa, fitness center, meeting space and business center. There is a good selection of restaurants close by, around the interstate exit, though free hot breakfast buffet is provided on-site.

3.
Best Western Plus Sweetwater Inn & Suites
300 NW Georgia Avenue, Sweetwater, TX 79556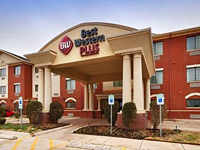 The elegant, modern Best Western Sweetwater Inn is situated towards the south edge of town along the I-20 frontage road, backing on to a residential area. The three floor property caters for guests in 57 spacious rooms & suites, all containing a refrigerator and microwave in addition to the standard amenities. Some of the suites have a sofa bed and/or hot tub bath. Free full breakfast is served, and for other dining there is a cluster of restaurants around the nearby Lamar Street exit of the interstate. The other main services at the hotel are an outdoor pool, spa, exercise room and a basic business center.

4.
Quality Inn Sweetwater
500 NW Georgia Avenue, Sweetwater, TX 79556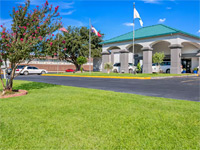 The pet friendly Quality Inn of Sweetwater faces the northern I-20 frontage road on the south side of town, one block from the Lamar Street intersection and within walking distance of many restaurants. The two floor building occupies quite a large site, surrounded by plenty of parking space, with a secluded courtyard at the center. All guest rooms contain a coffee maker, refrigerator and microwave, while some have a full kitchenette. The hotel provides free breakfast and free wi-fi, plus a fitness center and meeting room.

5.
Microtel Inn & Suites by Wyndham Sweetwater
9416 N Interstate 20, Sweetwater, TX 79556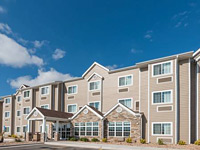 The Microtel Inn is part of a small group of businesses beside I-20 exit 242, in semi-rural surroundings on the west side of the city - also including two travel centers and a few stores. Most services in the area are between 2 and 4 miles east. The 64 room hotel provides reliable, budget-priced lodging, with amenities of free hot breakfast, an indoor pool, a fitness center and coin-operated laundry. The suites have a sofa bed and extra living space, while all accommodations are equipped with a refrigerator and a microwave.

6.
Studio 6 Sweetwater
501 NE Georgia Avenue, Sweetwater, TX 79556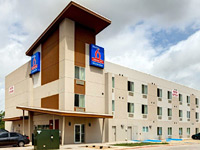 On the east edge of Sweetwater, the Studio 6 was built in 2015, overlooking the northern I-20 frontage road, within sight of undeveloped land in most directions. Rooms are spacious, brightly decorated, and all have a full kitchen - stove, microwave, sink, refrigerator/freezer, utensils and cupboards. Wi-fi and morning coffee are complimentary. Guest laundry is the only other amenity. Food and other items can be purchased from Walmart supermarket, one block west; there are also plenty of restaurants within walking distance.

7.
Econo Lodge Inn & Suites Sweetwater
216 SE Georgia Avenue, Sweetwater, TX 79556
Guest rooms at Econo Sweetwater are on two storys of an exterior corridor building that has a peaceful location, set back from the access road behind an adjacent restaurant, and looking out across partly undeveloped land to the rear. Amenities are free continental breakfast, free wi-fi, coin-operated laundry and an outdoor pool. The motel is situated on the south edge of town, near I-20 exit 244.