1.
Hilton Garden Inn Granbury
635 Pearl Street, Granbury, TX 76048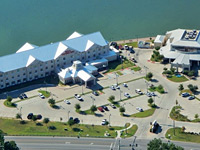 The Hilton Garden Inn has the best location of any hotel in Granbury, on a promontory on the north shore of the Brazos River, beside US 377 where it bridges over a side channel of Lake Granbury. The rear of the three floor building is just 20 feet from the water's edge. Guests are within walking distance of the city center; all major sites less than a mile away. The onsite Great American Grill restaurant/lounge is open for breakfast, lunch (seasonal), dinner, evening room service and evening drinks, while the Pavilion Pantry convenience store sells snacks and light meals, cookable using the microwaves that are installed in every guest room. The hotel's conference center has 3,000 sq ft of events space, enough for gatherings of 290 people; more meeting facilities are available at the adjacent Granbury Resort.

2.
Holiday Inn Express Hotel & Suites Granbury
1515 North Plaza Drive, Granbury, TX 76048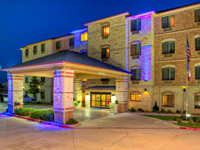 Another new hotel in Granbury, the Holiday Inn Express opened in 2013 after full renovation of an earlier property, located along Plaza Drive, just off Highway 377 on the east side of town, within sight of Lake Granbury. There is a shopping center and plenty of restaurants on the opposite side of the main road, within walking distance. The hotel has 64 comfortable rooms (all with microwave/refrigerator), a heated indoor pool, a hot tub, fitness center and guest laundry. South-facing rooms have views over Harbor Lakes Golf Club. Good quality free hot breakfast is served each morning.

3.
Best Western Granbury Inn & Suites
1517 Plaza Drive, Granbury, TX 76048-2635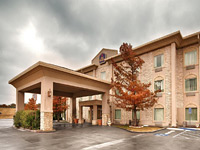 One of the newest Granbury hotels is the 57 room Best Western Granbury Inn & Suites along Plaza Drive, just south of the eastern junction of US 377 with the TX 426 loop road. Lake Granbury is both 1/4 mile away to the north and a mile south; while the historic town center is 1.5 miles east. The inn offers free full breakfast, an indoor swimming pool, fitness center, guest laundry and meeting space for up to 60 people, banquet-style. South-facing rooms enjoy pleasant views over a golf course and artificial lake.

4.
Comfort Suites Granbury
903 Harbor Lakes Drive, Granbury, TX 76048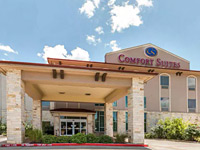 Regarded by many as the top hotel in Granbury, TX, the recently built (2008) Comfort Suites has 70 oversized rooms equipped with microwave, refrigerator and modern accessories like granite countertops. Some have added facilities such as a whirlpool bath, wet bar and plasma TV. The hotel is one of several along Harbor Lakes Drive, on the east side of Granbury (2.5 miles from the center), and right next to the Harbor Lakes Golf Club. Better than average free continental breakfast is served, and for leisure, the hotel provides a hot tub, indoor pool and fitness center.

5.
Quality Inn & Suites Granbury
800 Harbor Lakes Drive, Granbury, TX 76048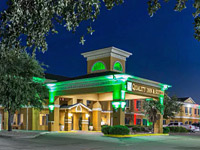 Like most hotels in Granbury, the Quality Inn is located just east of the city center close to US 377, where the lake forms a 270 degree bend, creating a spur of land that also contains the Harbor Lakes Golf Club plus various residences. The hotel enjoys a quiet setting a block south of the highway along Harbor Lakes Drive; its 54 rooms contain a refrigerator, microwave, coffee maker and ironing facilities. Complimentary breakfast is provided, and there are four restaurants nearby along US 377. The hotel also has a quiet outdoor pool at the rear.

6.
Days Inn by Wyndham Granbury
1201 N Plaza Drive, Granbury, TX 76048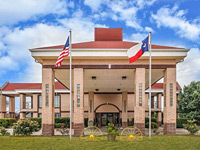 The Days Inn hotel in Lake Granbury lies just off highway 377, along the parallel Plaza Drive, about 1/4 mile from the lake shore - 1.5 miles east of the downtown area but quite central for other attractions, with Harbor Lakes Golf Club just to the south and Granbury Country Club to the north. The inn has large, east-west facing, microwave/refrigerator-equipped rooms on 2 floors, and an outdoor pool at the rear. Free hot breakfast is served. 25 miles east is the popular
Dinosaur Valley State Park
.