1.
Hampton Inn & Suites-Decatur
110 South US 81/287, Decatur, TX 76234
Hilton Hotels are represented in Decatur by the 74 room/suite Hampton Inn, located along US 81/287 on the west side of town, just south of the US 380 intersection and part of a busy commercial corridor with shops, restaurants and other businesses. The hotel features free hot breakfast (available in a takeout version), free wi-fi, a fitness room & pool, business center and guest laundry. A meeting room caters for events of up to 50 people. Downtown Decatur is half a mile east, while the center of Forth Worth is 40 miles south.

2.
Holiday Inn Express Hotel & Suites Decatur
1051 North Hwy 81/287, Decatur, TX 76234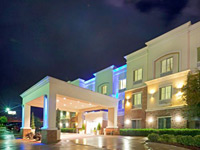 The Holiday Inn Express is part of a small group of restaurants and other businesses in the far northwest of Decatur, alongside US 81/287, just north of the US 380 intersection. Most rooms have relaxing views over woodland and fields, this being a rural neighborhood. The town center is a mile to the south, and Fort Worth is 40 miles away. The 75 room hotel serves complimentary deluxe continental breakfast, has an outdoor pool and provides free high speed internet access. The on-site meeting space caters for events of up to 40 guests.

3.
Candlewood Suites Decatur Medical Center
601 W Thompson Road, Decatur, TX 76234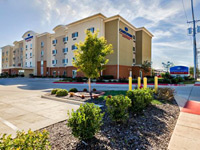 The second IHG hotel in Decatur opened summer 2011, built along US 81/287 on the southwest side of town, near Wise Regional Health System and Decatur College, in a semi-rural neighborhood. Candlewood Suites Decatur caters for guests in 82 well-equipped suites, all containing a full kitchen and sofa bed, plus separate areas for sleeping & living. Food and snacks can be purchased from the 24 hour convenience store, and as an alternative to in-room cooking, guests may use the bbq grills in the hotel's gazebo. Other facilities are a fitness center, outdoor pool, whirlpool, business center and free wi-fi

4.
Best Western Decatur Inn
1801 S Highway 287, Decatur, TX 76234-2439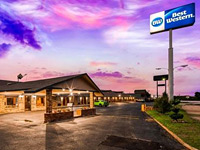 At 1801 Highway 287, the Best Western Decatur Inn is located a mile south of the town center, along the road from Fort Worth. The hotel has 45 microwave/refrigerator-equipped rooms all on the ground floor, with an exterior corridor and a rural location. Next door is the popular Frilly's Seafood Bar & Grill. The main amenities of the inn are a large outdoor pool, free breakfast, free wi-fi and meetings/business facilities.

5.
Fairfield Inn & Suites Decatur
1910 W US Highway 380, Decatur, TX 76234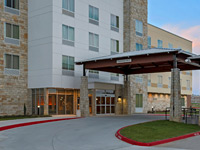 Marriott's first hotel in Decatur opened spring 2018 along the western approach to the city, US 380 from Jacksboro and Bridgeport. The 107 room property adjoins the Decatur Civic Center but otherwise is not close to any facilities; the nearest shops and restaurants are about one mile away, along US 83/287. Guest rooms have relaxing views over the rural surroundings, which include a wooded stream to the rear. Free hot breakfast, an outdoor pool, business & fitness centers and a 780 square foot meeting room are the main amenities.

6.
Baymont by Wyndham Decatur
600 W Hale Avenue, Decatur, TX 76234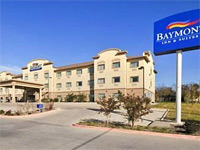 Guests at Baymont Inn Decatur give good reviews on account of the reasonable rates, professional staff, clean accommodations and convenient yet quiet location, in a residential area just off Hwy 287, a short walk from several restaurants and a Wal-Mart superstore. The city center is half a mile north, and Wise Regional Health System is one mile south. Daily free hot breakfast is provided, plus free manager's reception one night a week. A business center and 325 sq ft meeting room are available for guests here to work, while leisure facilities are the usual pool, whirlpool and fitness room. Select accommodations contain a kitchenette.

7.
Econo Lodge Decatur
1709 SR 287, Decatur, TX 76234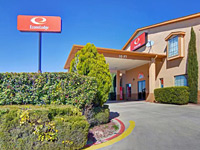 Decatur's Econo Lodge hotel is situated in farmland on the southern approach to town, at the northeast side of US 81/287 from Dallas and Fort Worth. Downtown Decatur is just over a mile to the north though there are at least three restaurants within walking distance. The 43 room, pet friendly inn has an outdoor pool (seasonal), hot tub, games room, sauna, newsstand and guest laundry. Free breakfast is served, including several hot items.

8.
Rodeway Inn Decatur
1507 Highway 287 S, Decatur, TX 76234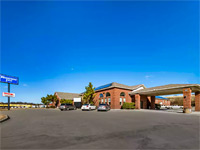 Like most Decatur hotels, the Rodeway Inn has a southerly location in town, along US 287, close to the edge of the countryside. The nearest restaurants are half a mile away, near a supermarket and Wal-Mart store. The hotel occupies a relatively modern, interior corridor building of 48 comfortable rooms, all equipped with a refrigerator and microwave. The free breakfast includes several hot items. Leisure amenities are a games room, fitness center, hot tub and indoor swimming pool.
9.
Motel 6 Decatur
1900 S Trinity Street, Decatur, TX 76234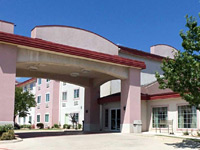 The 54 room, interior corridor Motel 6 is nearly the southernmost hotel in Decatur, TX, located on the east side of US 287 close to Wise Regional Health System. Nearby locations include a restaurant, car rental service, Decatur College and Wise County Heritage Museum, plus several churches. Besides the regular accommodations, all containing a microwave/refrigerator, there are several suites available with a hot tub bath and sofa bed. The motel also has an outdoor pool.