1.
Hampton Inn Cotulla
659 North Baylor Avenue, Cotulla, TX 78014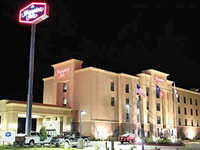 Hampton Inn Cotulla is located, like all other chain lodging in the area, on the north side of town near I-35 exit 67, in a small business park. There are four restaurants within half a mile, around the interstate exit. The hotel serves oil/gas workers and interstate travelers, being equidistant between Laredo and San Antonio. Each guest room contains a microwave and refrigerator; other hotel amenities are free hot breakfast, an outdoor pool/hot tub, fitness center, business center and a meeting room.

2.
Candlewood Suites Cotulla
1 Las Palmas Boulevard, Cotulla, TX 78014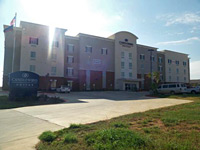 The Candlewood Suites in Cotulla is built opposite another IHG property, the Holiday Inn Express, at the most central of the city's Interstate 35 exits (69; I-35 Bus), within walking distance of a small selection of restaurants. The hotel has 88 rooms - studio suites or one bedroom suites, all with a full kitchen, while the other standard amenities include an outdoor pool, bbq/picnic area, free wi-fi, business & fitness centers. The property opened summer 2015.

3.
Holiday Inn Express & Suites Cotulla
624 Las Palmas Blvd, Cotulla, TX 78014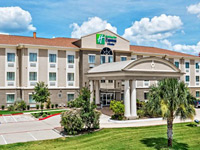 Holiday Inn Express Cotulla is a recently constructed hotel with a semi-rural location, beside I-35 but mostly surrounded by fields. Access is from exit 69 of the interstate, right at the north edge of town, though restaurants and other facilities are closer to exit 67 a little way west. The 79 room hotel offers a convenience store and business center (both open 24 hours), an outdoor pool/hot tub with bbq grills nearby, a small fitness center and a microwave/refrigerator in all accommodations. Perhaps the best feature is the free breakfast, which includes a range of hot items.

4.
Fairfield Inn & Suites Cotulla
417 North I-35, Cotulla, TX 78014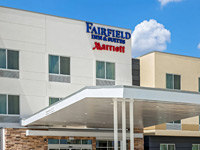 The first Marriott property in Cotulla opened summer 2015, and like most of the other hotels in the city is situated beside I-35 near the most central of the three exits, at the intersection with Hwy 468. Within walking distance are several restaurants and a truck stop, while open countryside begins a short distance north. The hotel has 92 comfortable guest rooms and suites, brightly decorated and equipped with work desk, refrigerator, microwave & ironing equipment. The complimentary breakfast buffet includes several hot items. Other standard amenities are a fitness center, outdoor pool and bbq grill.

5.
Comfort Suites Cotulla
617 Las Palmas Blvd, Cotulla, TX 78014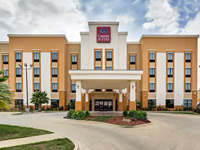 One of the latest new hotels to open in Cotulla (late 2013) is the Comfort Suites, built near most other lodging in town near the FM 468 exit of I-35, with a quiet location set back a little from the main road behind a restaurant. Several more dining outlets are within walking distance, while free hot breakfast is provided at the hotel, and evening drinks & snacks are available from the lounge/bar. The oversized guest rooms feature a microwave, refrigerator, sofa bed and pillow top mattresses; some contain a hot tub bath and/or a kitchenette. A fully equipped business center and a 50 person meeting room are at the disposal of guests here to work. The hotel also has an outdoor pool and fitness center.

6.
MainStay Suites Cotulla
565 N I-35, Cotulla, TX 78014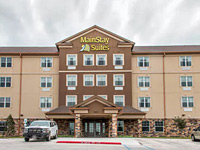 MainStay Suites Cotulla provides comfortable, oversized accommodations which all feature a kitchenette, sofa bed and separate living area, and are contained within an elegant, four story building along the northern I-35 frontage road, part of a line of restaurants, gas stations and other hotels. Continental breakfast and wi-fi and complimentary, while the hotel also has an outdoor pool, business center and fitness center. This location is on the north edge of the city, about one mile from a group of shops and a better selection of restaurants, on the far side of the interstate.

7.
Microtel Inn & Suites by Wyndham Cotulla
499 N I-35, Cotulla, TX 78014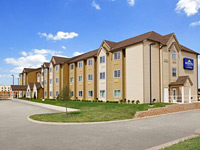 Microtel Inn Cotulla provides affordable, comfortable, oversized lodging in a recently constructed, three story building on the north side of I-35; backing onto open countryside but still within walking distance of shopping and dining, around exit 67 of the interstate (FM 468). Like other new hotels in the area the property caters to workers at the nearby Eagle Ford Shale oil/gas fields, as well as people traveling between San Antonio and Laredo. Wi-fi and continental breakfast are the complimentary amenities, while the pet friendly hotel also has a business center and guest laundry. Most rooms contain a microwave and refrigerator.

8.
Super 8 by Wyndham Cotulla
669 North Baylor Avenue, Cotulla, TX 78014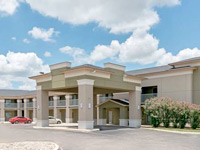 Recently built (2012) Super 8 is the third chain hotel in the small town of Cotulla; a handsome, interior corridor property offering free hot breakfast, free wi-fi, a business center, hot tub and guest laundry. All rooms have a microwave and refrigerator. The hotel is situated near the north edge of Cotulla, a quarter of a mile from I-35 exit 67, and within walking distance from shops, bars & restaurants in the center.