1.
Hampton Inn & Suites Childress
400 Madison Avenue, Childress, TX 79201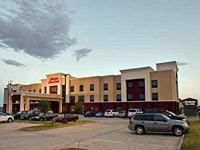 Guests at the 62 room Hampton Inn Childress appreciate the daily free breakfast, which includes a selection of hot items; a take-out version is provided for people checking out early. Other meals are available from many restaurants nearby, a short walk east, around the junction of US 287 and US 62/83; the hotel has a westerly location in Childress, at the edge of open fields. Suites offer enhanced facilities such as a microwave, refrigerator, wet bar and sofa bed. Other amenities are the usual pool, fitness center, business center and meeting space.

2.
Holiday Inn Express Hotel & Suites Childress
3001 Avenue F NW, Childress, TX 79201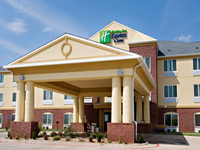 The newest hotel in Childress opened summer 2009 in a quiet location on the west side of town - surrounded by undeveloped land in most directions though with a new Super Wal-Mart close by. Holiday Inn Express Childress is a clean, modern and well managed establishment that accommodates guests in 70 elegant rooms & suites, the latter with microwave, refrigerator & sofa bed. Internet access and buffet breakfast are both free; for lunch/dinner there are plenty of restaurants within half a mile along the main road (US 287; Avenue F). The hotel also has an indoor pool, hot tub, small exercise room, business center and laundry.

3.
Surestay Hotel by Best Western Childress
1804 Avenue F NW, Childress, TX 79201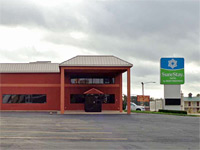 Best Western Childress is located in a residential/commercial district near the west edge of town, along US 287 just east of the junction with US 62/83. There are plenty of restaurants nearby, including K-Bobs Steakhouse and MacDonald's. Although an old property with exterior corridors, the hotel has a good reputation for cleanliness and value; it offers 46 rooms on two floors, free wi-fi, an indoor pool, hot tub, sauna and gift shop. Complimentary continental breakfast is served each morning.

4.
Quality Inn Childress
2008 Avenue F NW, Childress, TX 79201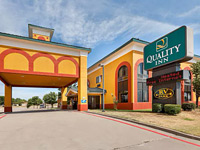 For a small town, Childress has a good selection of hotels, and one of the most westerly is the Quality Inn, by the junction of US 287 with US 62/83. Childress Country Club is a few blocks north, and nearby natural attractions include the
Caprock Canyons
and Copper Breaks state parks. Quality Inn Childress offers the standard free continental breakfast, and there are many restaurants close to the hotel and further east along US 287. Other amenities include an indoor pool, sauna, guest laundry and fitness center.

5.
Days Inn by Wyndham Childress
2220 Avenue F Hwy 287, Childress, TX 79201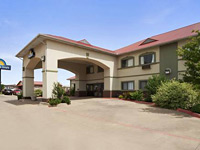 Wal-Mart, Fox Rural Health Clinic, a supermarket and a good selection of restaurants are within walking distance of the Days Inn; the interior corridor property is located on the west edge of Childress in the main commercial area in town, along US 287. The motel enjoys a good reputation for the clean rooms, low rates and attentive staff. Facilities are fairly standard; an indoor pool/whirlpool, a small fitness room and a business center, plus complimentary wi-fi & continental breakfast.

6.
Super 8 by Wyndham Childress
411 Avenue F NE, Childress, TX 79201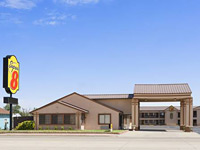 The easternmost hotel in Childress is the 44 room Super 8, on the north side of US 287 from Vernon, in a residential area though two blocks from the start of open countryside (to the north). Guest rooms are contained within a pair of exterior corridor blocks, one of two storys, the other ground floor only. Wi-fi and eight item continental breakfast are complimentary; other amenities are a hot tub, fitness center, indoor pool, laundry and basic business services. A small selection of restaurants are within walking distance.
7.
Motel 6 Childress
1612 Avenue F Northwest, Childress, TX 79201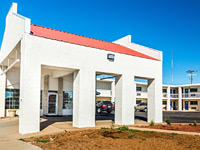 Motel 6 Childress is a typically small, basic, roadside property, with rooms on two storys of an exterior corridor building, beside the parking lot. The main amenity is an outdoor pool, right at the front of the property and somewhat overlooked from the highway (Avenue F, US 287). Free morning coffee is provided. There are many restaurants close by, all around the junction with US 62. Pets are welcome.