Location
The pull-out opposite the Sisters Rocks is along US 101 between mileposts 314 and 315; beyond is a narrow track, soon fenced off, then a slightly rougher footpath beyond, separated from the highway by a low ridge. Vehicles parked by the gate would be out of sight of the road, so camping may be possible here, while the nearest official site is at Humbug Mountain State Park to the north. There are few buildings along this section of the highway; to the east the land rises towards the coastal mountains and soon becomes thickly wooded.
The Rocks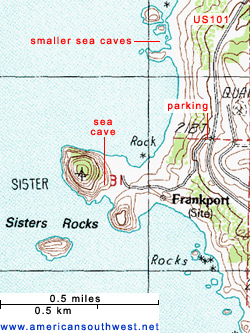 The old road leads down 160 feet over a third of a mile to a low saddle separating the mainland from the nearest rock, and down a little more to a pebble/boulder beach linking with the second, largest rock. The third peak lies 750 feet away to the southwest, separated by open water. All three rocks are steep sided, and mostly sheer around the waterline; they are composed of hard, partly metamorphosed sedimentary strata (the Otter Point Formation). The most notable feature, in the largest, is a sea-carved cave which has at least two small entrances on the south side, leading through to a much bigger hole on the east side, viewable by climbing up the slope a short distance. Most other parts of the rocks are too steep to explore.
The Beaches
To the south, the closest rock to the land is bordered by a short beach, at the edge of which are a few rusty iron objects and the faint remains of several structures from the old harbor settlement of
Frankport
, established by gold prospectors in the 1850s. The far end of the beach has some smaller eroded rocks, giving way to a longer sandy stretch with other rocks on the far side, this section beneath a private residence on the bluffs. Another dark-colored beach extends north of the Sisters Rocks, interrupted by a group of nicely carved, and more photogenic rocky pinnacles, containing several caves and arches, interspersed by narrow, sandy inlets. The cliff faces and tidepools are home to the usual range of sea life, most abundant being green anemones, orange, pink and purple sea stars and bluish mussels. Again a house overlooks this section, on the hills just to the east.