Map of Port Orford Heads State Park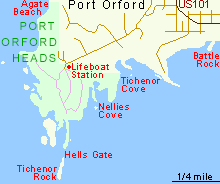 The Park
The day use state park is signed from US 101 in Port Orford town center, accessed by 9th Street and later
Coast Guard Road
, an undulating route passing houses while climbing to the forested top of the promontory, ending at a parking area next to the lifeboat station. A 1.2 mile trail loops around the perimeter of the peninsula and links with two short spurs to overlooks; first (Headland Trail) is northwest, descending part of the way down a sloping, grassy ridge bearing clumps of stunted, wind-blown trees. This has views of an isolated beach below, on the north side, the much longer
Agate Beach
beyond, and more of the coast all the way to distant
Cape Blanco
. The land falls away equally precipitously to the southwest, where the cliffs plunge down to hidden coves and jagged sea stacks, all surrounded by deep, turquoise-blue water and pounded by fierce waves. The other spur trail is due south, leading to a more restricted viewpoint, partly enclosed by bushes - once the site of the lifeboat station's lookout tower. The best views are from further round the loop, right at the south edge of the peninsula, where a section of the cliffs projects south forming a long narrow ridge, then a gap (Hells Gate), and then a detached segment of the same stratum (Tichenor Rock). This can only be seen properly by hiking off trail a short distance, down a wooded slope to the very edge of the cliffs.
Nellies Cove and Battle Rock
Back on the path, the final overlook is of
Nellies Cove
, a sheltered inlet 200 feet below, location of the remains of the lifeboat launch, not publicly accessible. Again the land drops down very steeply, to a deep water bay between near vertical cliffs. To the east, the next parts of the shoreline (Tichenor Cove and Graveyard Point) are privately owned, but public beaches, and Port Orford Harbor, begin just beyond. The best feature is
Battle Rock
, an isolated, steep sided rocky remnant topped by a few trees, bordered by sandy beaches on both sides. The sands extend a long way southeast, towards
Humbug Mountain
, while several other rocks project above the waves a little way out to sea. This part of the coast is easily explored starting from several parking areas just off US 101.