1.
Hampton Inn & Suites Roseburg
1620 NW Mulholland Drive, Roseburg, OR 97470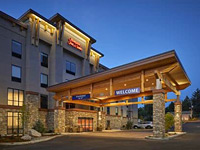 The Hampton Inn (open 2018) is accessed from the most central of Roseburg's I-5 intersections, Garden Valley Blvd (exit 125), opposite to Roseburg Health Care. The hotel has a quiet location at the edge of a residential estate, a short drive from the regional airport and within walking distance of several restaurants. There are many large stores less than one mile away. All guest rooms feature a microwave, refrigerator and coffee maker; the studio suites are equipped with a sofa bed. Hot breakfast is complimentary, while snacks and sundries can be purchased from a 24 hour convenience store. The business center is also open 24 hours.

2.
Holiday Inn Express Roseburg
375 W Harvard Blvd, Roseburg, OR 97470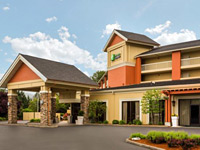 The Holiday Inn Express is one of a relatively small number of hotels near Roseburg city center, as most are found a mile or two north, and it has a nice location just off I-5 (at exit 124), backing on to the South Umpqua River; there is a walking trail running past, and guests can stroll across a lawn to the water's edge. Free hot breakfast is served each morning and there are several restaurants on hand to provide other meals. Leisure facilities are a spacious indoor pool, a covered outdoor whirlpool, and a small fitness center. The hotel's 1,500 sq ft of meeting space can cater for events of up to 250 people, theater style.

3.
Best Western Garden Villa Inn
760 NW Garden Valley Boulevard, Roseburg, OR 97470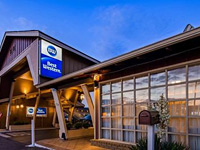 Locations within one mile of Best Western Garden Villa Inn include Roseburg Health Care, Riverfront Park, Roseburg Regional Airport and Mercy Medical Center; the 66 room, exterior corridor hotel sits beside interstate 5 at the Garden Valley Boulevard exit, close to a shopping center with several restaurants. Free full breakfast is provided, plus free cookies in the evening. Most rooms face away from the approach road, looking out over the good sized parking lot and sheltered outdoor pool. There are several types of suites available in addition to the standard accommodations, all of which contain a refrigerator and microwave.
4.
Comfort Inn Roseburg
1539 Mullholland Drive, Roseburg, OR 97470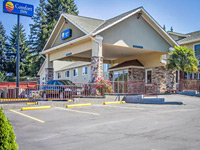 The Comfort Inn hotel in Roseburg provides reliable, affordable accommodation in an interior corridor building beside the Garden Valley Boulevard exit of I-5, at the edge of a residential district. One mile west, Roseburg Valley Mall has over 40 outlets including Macy's & Sears, and there are a number of restaurants much closer. The range of accommodations include mini suites, deluxe suites, and rooms with refrigerator and microwave. The hotel's free breakfast comes with a small selection of hot items, while other amenities are a 900 sq ft meeting room, an indoor pool, a hot tub, and a free shuttle to Roseburg Airport, half a mile north.

5.
Quality Inn Central Roseburg
427 NW Garden Valley Blvd, Roseburg, OR 97470
Quality Inn Roseburg is part of a small group of hotels on the east side of I-5 exit 125, 2 miles from the city center but within walking distance from shopping and dining - both around the interstate exit and a few blocks east, along Stephens Street. The inn has the traditional two floor, exterior corridor layout, its 50 rooms arranged around three sides of the parking area, centered on an outdoor pool. Other amenities are the usual free continental breakfast, free internet access, a fitness center and guest laundry. Microwaves and refrigerators are present in all rooms, while some of the suites have a wet bar. Pets are welcome, for a fee.

6.
Howard Johnson Express Inn - Roseburg
978 NE Stephens Street, Roseburg, OR 97470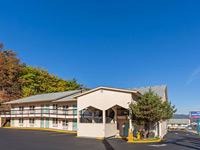 The well reviewed Howard Johnson Express of Roseburg sits along Hwy 99 about half way (one mile) between downtown and the shopping areas around I-5 exit 125, yet is still a short walk away from a selection of restaurants and small stores, and also from Deer Creek Park along the Umpqua River. The hotel has a pleasant location next to a wooded hill, and it charges low rates. Amenities are free continental breakfast, wi-fi and a microwave/refrigerator in each of the oversized guest rooms. Several two room suites are available.

7.
Travelodge Roseburg
315 West Harvard Avenue, Roseburg, OR 97470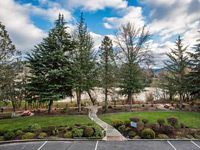 South-facing rooms at Travelodge Roseburg have relaxing views of lawns, trees and the South Umpqua River, which flows right past; the two floor motel has a good location on the west side of the river next to the Hwy 138 bridge, a short walk from shopping and dining in the downtown district. The pet friendly property backs on to a private riverside park and picnic area, and has other amenities of an outdoor pool, free wi-fi and free continental breakfast. All guest rooms contain a refrigerator and microwave.

8.
Econo Lodge & Suites Roseburg
2855 NW Edenbower Blvd, Roseburg, OR 97471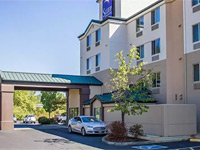 The Econo Lodge is a north Roseburg hotel, close to the edge of the wooded hills beside I-5 exit 127, within walking distance of Mercy Medical Center, Albertsons Supermarket and several other large stores extending to Roseburg Valley Mall, one mile away. Roseburg is situated between the Coast Range and the Cascades, close to much spectacular scenery including
Crater Lake National Park
, 85 miles east. The interior corridor, pet friendly Econo Lodge contains 108 comfortable rooms, provides free deluxe continental breakfast, and has amenities of an indoor pool/whirlpool, fitness center, guest laundry and meeting space.

9.
Rodeway Inn & Suites Roseburg
511 SE Stephens Street, Roseburg, OR 97470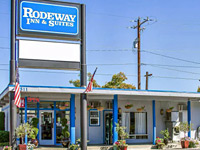 Rates at the 52 room, exterior corridor Rodeway Inn Roseburg are generally low, on account of the basic amenities - free wi-fi, free coffee and a copy/fax service, but the motel has a good central location in town along Hwy 99, within walking distance of shops, restaurants, bars and other attractions, including a city park along the Umpqua River. Pets are welcome, for a small fee.

10.
Motel 6 Roseburg
3100 NW Aviation Drive, Roseburg, OR 97470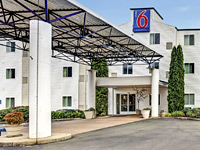 The interior corridor rooms at Motel 6 Roseburg have views east towards wooded hillsides or west, across I-5; the inn is located at exit 127 of the interstate, 3 miles north of the city center. Nearby are two large stores (Lowe's, Home Depot) and one restaurant; more shopping and dining can be found one mile south along Stewart Parkway. The motel provides free wi-fi and free morning coffee. Microwaves and refrigerators are available, but there are no other amenities.

11.
Super 8 Roseburg
3200 NW Aviation Drive, Roseburg, OR 97470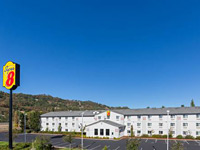 Super 8 Roseburg provides free, eight item continental breakfast and shares a parking lot with one restaurant. The pet friendly motel borders the north end of Roseburg Municipal Airport, within sight of wooded hills in most directions, and is accessed from I-5 exit 127. Guests here to work can take advantage of a meeting room, business center and the free wi-fi. Also available are an indoor pool, hot tub and coin-operated laundry.