1.
Holiday Inn Express Hotel & Suites Newport
135 SE 32nd Street, Newport, OR 97365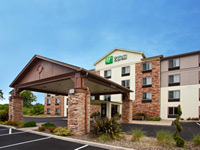 The recently built Holiday Inn Express is one of the few hotels on the south side of Newport, in the South Beach area, and it has a pleasant setting backing on to a patch of woodland, half a block from US 101, within easy walking distance of Oregon Coast Aquarium, Hatfield Marine Science Center, Newport Marina and the edge of Yaquina Bay. Rooms are bright, spacious and modern, equipped with microwave/refrigerator, plus a work desk and triple-sheeted bedding. The free breakfast includes a selection of hot items, and there are at least six restaurants nearby, even though most facilities in town are half a mile north, across the highway bridge. Also available are an indoor pool, fitness center, business center and meeting room.

2.
Best Western Plus Agate Beach Inn
3019 N Coast Highway, Newport, OR 97365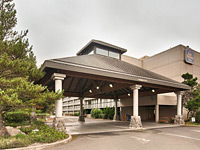 Newport's Best Western hotel enjoys scenic, partly wooded surroundings 1.5 miles north of the town center, reached by US 101 though set back a little from the highway, and is just 700 feet from the Pacific coastline at Agate Beach State Park. This is a full service property, with a restaurant/bar on-site and a good range of amenities - indoor pool/hot tub, exercise room, games arcade, wi-fi, business center and meeting space. There is no free breakfast, however. All rooms have a refrigerator and microwave, and those on the upper floors have views either of the ocean or the Coast Range, which rises up steeply a few miles inland.
3.
Comfort Inn Newport
531 SW Fall Street, Newport, OR 97365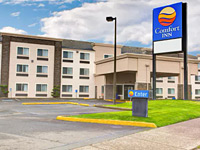 Like most hotels in Newport, OR, the Comfort Inn is centrally located, one block from US 101 and a short distance from shops, bars, restaurants, and Samaritan Pacific Communities Hospital. In the other direction, a walk of 650 feet reaches the edge of the beach, and it is not much further to Yaquina Bay State Recreation Area and the lighthouse. The hotel occupies an older, interior corridor building and provides comfortable, affordable lodging with limited amenities, principally free hot breakfast, a microwave in each room, guest laundry and basic business services. Some of the rooms have one or more of a refrigerator, sofa bed and whirlpool bath.

4.
Days Inn Newport
544 SW Coast Hwy 101, Newport, OR 97365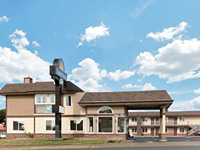 The Days Inn hotel in Newport has a slightly elevated position in the city center, on the west side of US 101, enabling the Pacific Ocean to be visible, a quarter of a mile away. Most guest rooms, however, face north or east, and instead have views of the mixed residential/commercial surroundings; there are many shops and restaurants nearby, and other locations such as Newport City Hall, Newport Recreation Center and the local hospital. In common with many other small motels in town, facilities are limited, in this case just free continental breakfast, free w-fi and a hot tub.

5.
Travelodge Newport
1311 N Coast Hwy, Newport, OR 97365
The Travelodge has a north-central location in Newport along US 101, less than half a mile from the oceanfront and within a few blocks of a good selection of dining and shopping. The two floor, exterior corridor building is angled away from the highway, hence rooms at the rear are quietest. All accommodations have a microwave and refrigerator. The standard two complimentary amenities of internet access and continental breakfast are provided, plus basic business services.

6.
Econo Lodge Newport
606 SW Coast Hwy 101, Newport, OR 97365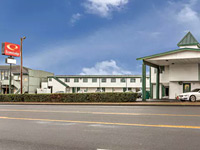 Econo Lodge Newport is typical of the many small motels along US 101 in the town center, conveniently located both for shopping and dining near the highway, and the Pacific Ocean beaches, a quarter of a mile west, and just viewable from a few of the rooms. Also nearby are several city parks, Yaquina Bay, Oregon Coast Aquarium and Newport Recreation Center. The pet friendly motel provides the usual free continental breakfast; otherwise the only amenities are the microwaves and refrigerators available in some of the rooms.

7.
Rodeway Inn Newport
206 North Coast Highway, Newport, OR 97365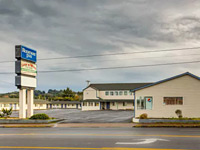 Two blocks from the US 101-US 20 intersection in downtown Newport, the Rodeway Inn is a small (40 room) exterior corridor motel that features free continental breakfast, free internet access, a refrigerator/microwave in all accommodations, and guest laundry. A few rooms on the upper floor have kitchenette facilities. There is a Chinese restaurant on-site, and many more dining outlets close by, either along the main road or beside the coast, half a mile west.

8.
Motel 6 Newport
2633 S Pacific Way, Newport, OR 97365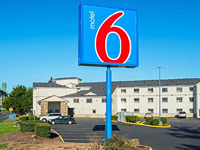 Motel 6 Newport is an interior corridor property, just off US 101 as the highway rises to the bridge over Yaquina Bay; guests are only 500 feet from the waterfront, and a short walk from the woodland and dunes of South Beach State Park. Guest rooms are equipped with a microwave/refrigerator unit, and free wi-fi, while the only other amenity is free morning coffee. Other sites in the vicinity include Rogue Ales Brewery, Oregon Coast Aquarium and Hatfield Marine Science Center.
9.
Knights Inn Newport
1823 North Coast Hwy, Newport, OR 97365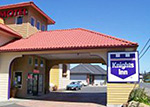 Knights Inn Newport sits opposite a Fred Meyer store on the north edge of the city, just down the street from Safeway, Sears and various other shops & restaurants. The exterior corridor motel provides some of the cheapest lodging in town, with a generally quiet setting, but offering no amenities beyond free internet and microwaves/refrigerators in the guest rooms. The closest public access to the scenic coastline is just less than one mile south.