1.
Holiday Inn Express Grants Pass
105 NE Agness Avenue, Grants Pass, OR 97526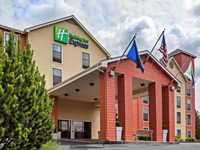 On the east side of Grants Pass, the Holiday Inn Express is easily accessed from the US 199 (Redwood Highway) junction along Interstate 5, and puts guests within walking distance of a variety of restaurants and shops, including a supermarket and a Wal-Mart, and a short drive from much beautiful scenery along the nearby Rogue River and the surrounding Siskiyou National Forest. The hotel is built on a small hill, so many of the rooms enjoy elevated views, across the garden area at the front, and the outdoor pool/hot tub (shared with the adjacent Best Western). All accommodations contain a refrigerator and a microwave. The free breakfast includes a selection of hot items.

2.
Best Western Grants Pass Inn
111 NE Agness Avenue, Grants Pass, OR 97526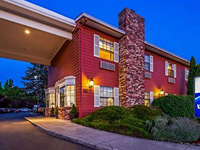 Best Western Grants Pass Inn sits at the edge of a commercial area of restaurants and large stores, beside I-5 exit 55 on the east side of town. This location is 2 miles from the town center, 77 miles from Crescent City near
Redwood National Park
, and 80 miles from
Crater Lake National Park
. The hotel occupies an older but clean and attractively designed exterior corridor building of 84 comfortable rooms, and offers amenities of free continental breakfast, an outdoor pool/whirlpool, a business center and guest laundry. Rooms are available with one or more of a mini bar, sofa bed, refrigerator, microwave and hot tub bath.

3.
Best Western Inn at the Rogue
8959 Rogue River Highway, Grants Pass, OR 97527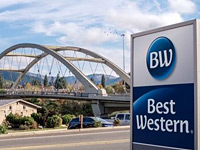 Although advertised as being in Grants Pass, Best Western Inn at the Rogue lies 10 miles east along I-5 or Hwy 99, in the smaller town of Rogue River - in a scenic setting 400 feet from the river by exit 48 of the interstate, at the foot of a wooded hill. Free continental breakfast is served, and for lunch & dinner there is one restaurant adjacent and others within walking distance in the town center, on the north side of the river. Rooms are equipped with a microwave, coffee maker and refrigerator; other amenities are a fitness center, meeting/event space, hot tub and outdoor pool, this latter on the sheltered south side of the property, away from the highway.
4.
Comfort Inn Grants Pass
1889 NE 6th Street, Grants Pass, OR 97526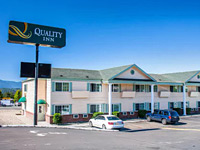 Comfort Inn Grants Pass is part of a busy neighborhood on the north side of town, near shopping, dining, Southern Oregon Hospital and many other businesses. The hotel has two stories and 59 medium sized, interior corridor rooms, some with refrigerator/microwave; those on the north side look out over the outdoor pool. Free hot breakfast, free internet access and a copy/fax service are the other main amenities. Pets are welcome, for a fee. The hotel is reached from exit 58 of I-5, 2 blocks north, and is 2 miles from Grants Pass town center.

5.
Grants Pass Travelodge
1950 NW Vine Street, Grants Pass, OR 97526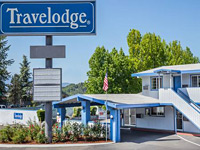 Grants Pass Travelodge provides typical budget priced, exterior accommodation adjacent to the town's main I-5 exit (Hwy 99; Redwood Highway), within one block of a dozen restaurants. The two story, L-shaped building is surrounded by a large parking lot with space for the biggest trucks, and it has an outdoor pool on the south side, away from the main road. Wi-fi and continental breakfast are complimentary. Pets are welcome. There are several suites available, with microwave & refrigerator; the maximum occupancy is 6 people.

6.
Motel 6 Grants Pass
1800 NE 7th Street, Grants Pass, OR 97526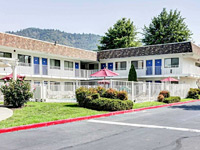 The two floor, exterior building of Motel 6 Grants Pass is positioned at right angles to the two nearby main roads - the two sections of Redwood Highway - so most rooms are quiet, looking out across the lines of trees that enclose the perimeter. Some have views of the outdoor pool on the south side. Other amenities are wi-fi, coin-operated laundry, free morning coffee and a microwave/refrigerator in select accommodations. The motel is located near the north edge of town, two blocks south of the I-5 intersection

7.
Super 8 Grants Pass
1949 NE 7th Street, Grants Pass, OR 97526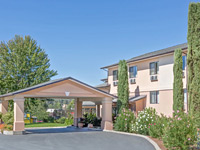 Super 8 Grants Pass benefits from an elevated location, allowing rooms to have fine views, either north towards wooded mountains or south across the city and the Rogue River valley. The pet friendly motel overlooks the eastern section of Hwy 99, part of a line of shops, restaurants and other businesses, 1.5 miles north of the city center. All guest rooms feature a microwave, refrigerator, coffee maker and free wi-fi. Eight item continental breakfast is also complimentary. An indoor pool is the other main amenity.