1.
Holiday Inn Express Hotel & Suites Ashland
565 Clover Lane, Ashland, OR 97520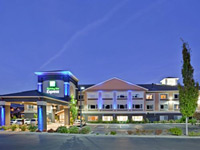 The Holiday Inn Express is the southernmost hotel in Ashland, and so the first to welcome travelers arriving from California, 14 miles south. Adjoining the 65 room property are a selection of shops and restaurants - part of a commercial area either side of I-5 exit 14 (Ashland Street), within a few miles of Ashland Municipal Airport and Oak Knoll Golf Course. Southern Oregon University is just over a mile west. The three floor hotel has a bright, clean appearance, and offers amenities of free hot breakfast, an indoor pool, hot tub and fitness center.

2.
Best Western Bard's Inn
132 N Main Street, Ashland, OR 97520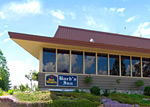 Centrally located in Ashland, OR, Best Western Bard's Inn is a welcoming and well established hotel of 90 microwave-equipped rooms, some interior corridor, most overlooking the parking lot, at one side of which is a small outdoor pool. The property sits along Main Street in the downtown area, close to many restaurants, and 0.3 miles from Oregon Shakespeare Festival, at the edge of Lithia Park; a location 2.8 miles from exits 14 or 19 of interstate 5. Free continental breakfast is served. Also available are meeting space, a hot tub, and a whirlpool bath in select rooms.

3.
Best Western Windsor Inn
2520 Ashland Street, Ashland, OR 97520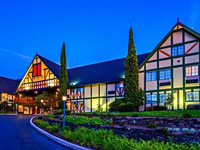 Best Western Windsor Inn has a pleasant setting at the edge of a residential area, its 91 comfortable guest rooms divided into several blocks lining the courtyard, which contains gardens, an outdoor pool/whirlpool, plus plenty of parking. There is one restaurant adjacent and several more within a few minutes walk - the hotel is close to I-5 exit 14 on the south side of Ashland, part of a commercial area that includes a fair selection of shops. Good quality free continental breakfast, a fitness center, meeting space, guest laundry and free internet access are the other main facilities.
4.
Comfort Inn & Suites Ashland
434 S Valley View Road, Ashland, OR 97520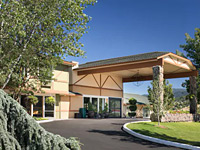 Comfort Inn Ashland adjoins open countryside to the east, and all rooms enjoy mountain views - the hotel is situated at the northwest edge of town at the Valley View Road exit (no. 19) of Interstate 5, near a restaurant and two gas stations. An indoor pool/hot tub, fitness & business centers and coin-operated laundry are the main facilities. Wi-fi and continental breakfast (including a few hot items) are complimentary. The city center is 2 miles south.

5.
Econo Lodge Ashland
50 Lowe Road, Ashland, OR 97520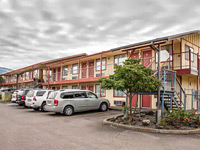 The surroundings of Econo Lodge Ashland are mostly undeveloped, apart from a gas station and a couple of restaurants - the motel is situated beyond the north edge of town beside I-5 exit 19, and most accommodations enjoy views of the wooded hills of the Rogue River National Forest, which enclose both sides of the valley. The place is quite small, containing 42 exterior corridor rooms, and rates are low, yet the inn still offers a decent range of facilities, including free continental breakfast, free internet access, guest laundry, an outdoor pool and basic business services.

6.
Rodeway Inn Ashland
2359 Ashland Street (Hwy 66), Ashland, OR 97520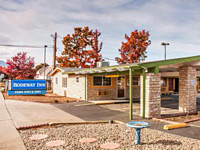 Like most hotels in Ashland, the Rodeway Inn lies on the east side of town beside interstate 5, at the Hwy 66 intersection (exit 14). The inn adjoins a shopping area with several supermarkets and a selection of restaurants, and is 2.5 miles from the city center. Free continental breakfast, a small business center and an outdoor pool are the three main amenities, plus a refrigerator & microwave in each of the 39 rooms, which are all on the ground floor, and accessed by exterior corridors. Pets are welcome, for a fee.

7.
Super 8 Ashland
2350 Ashland Street, Ashland, OR 97520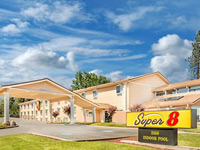 Guest rooms at Super 8 Ashland either face west, looking over a belt of woodland around a small stream, or east, with views over a few adjacent businesses that separate the motel from Interstate 5 just beyond - the interior corridor property has a southeasterly location in town along Ashland Street, close to the start of the countryside. There are plenty of restaurants around the freeway exit, and a few shops. All facilities at the Super 8 are indoors, and they include a pool, meeting room and coin-operated laundry. Free continental breakfast is prepared each morning, with eight items.