1.
Holiday Inn Express Hotel & Suites Tucumcari
2624 S Adams Street, Tucumcari, NM 88401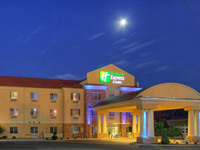 On the south side of Tucumcari, NM, the Holiday Inn Express caters for guests in 59 large rooms and 20 suites, all containing a microwave, refrigerator and ironing facility. The hotel is fairly new (open 2007), so all rooms and public areas are clean & modern, and it has a pleasant location at the edge of the countryside, easily reached from exit 332 of interstate 40, which runs by just to the south. For relaxation, residents have a choice of a games room, indoor pool, hot tub, sauna, fitness center and a garden. There are plenty of restaurants along the main road north (1st Street), though free continental breakfast is available at the hotel.

2.
Best Western Discovery Inn
200 E Estrella Avenue, Tucumcari, NM 88401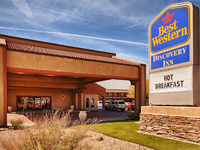 Just off 1st Street, the main north-south route through Tucumcari, the Best Western Discovery Inn is quite a large hotel, offering 107 rooms on 2 stories, located immediately northeast of I-40 exit 332 - right at the south end of town, at the edge of the desert plains that stretch for hundreds of miles southwards. The hotel complex includes a gift shop, outdoor pool and restaurant (K Bob's Steakhouse); other facilities include 24 hour exercise room, guest laundry, hot tub and meetings space for up to 45 people. The hotel serves complimentary full breakfast.

3.
Quality Inn Tucumcari
3716 E Tucumcari Blvd, Tucumcari, NM 88401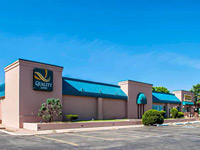 Quality Inn Tucumcari offers a good range of facilities - free full hot breakfast, an exercise room, outdoor pool & hot tub, convenience store, children's playground and guest laundry, plus a range of services for business & meetings (catering for events of up to 120 people). There is a restaurant/lounge on the premises and another (Denny's) one block away. Although fairly old, the property is well maintained, and the 100 rooms are generally clean and comfortable.

4.
Days Inn Tucumcari
2623 S 1st Street, Tucumcari, NM 88401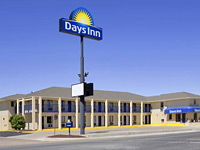 With 40 rooms, the exterior corridor Days Inn is one of the smaller motels in Tucumcari; a two floor building by the most central of the town's interstate exits (332; 1st Street), near a good selection of restaurants. Rooms feature a microwave, refrigerator and free wi-fi, while the motel also offers free breakfast (including several hot items) and basic business services. Pets are welcome, for a nominal fee.

5.
Rodeway Inn Tucumcari
2800 E Tucumcari Blvd, Tucumcari, NM 88401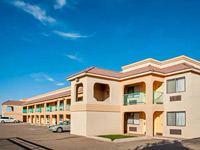 Rodeway Inn Tucumcari has a quiet location 2 miles east of the center of town, on the south side of Tucumcari Boulevard, set back a little from the highway. The inn is one of the first Tucumcari hotels for travelers westbound along I-40, being one block west of exit 335, and its rooms overlook mostly undeveloped desert land in all directions. The main amenities are a heated outdoor pool, free continental breakfast, newsstand, and microwave & refrigerator in each room.

6.
Econo Lodge Tucumcari
3400 E Tucumcari Blvd, Tucumcari, NM 88401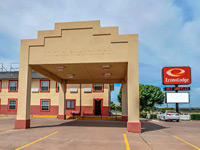 Tucumcari's Econo Lodge motel is part of a group of restaurants and other hotels east of the main city center, alongside exit 335 of I-40 - surrounded by undeveloped land with views of distant hills. Downtown lies 2.5 miles west, along Tucumcari Boulevard. The lodge provides simple, clean, cheap accommodation in a small (41 room), 2 floor building, and has the one main amenity of free continental breakfast. Some rooms are available with microwave and refrigerator.

7.
Motel 6 Tucumcari
2900 E Tucumcari Blvd, Tucumcari, NM 88401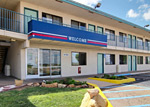 Motel 6 Tucumcari has the typical layout for this budget brand, the rooms on two exterior corridor floors divided into several connected blocks, with views over the lightly developed neighborhood; there are two adjacent motels to the east and west, but only empty plains in the other directions. The rear of the hotel conceals an outdoor pool and courtyard garden, and all is surrounded by an extra large parking lot. Other amenities are wi-fi, coin-operated laundry and free coffee. A couple of restaurants are close by, to the east; around the junction of the main road with I-40.

8.
Super 8 Tucumcari
4001 E Tucumcari Blvd, Tucumcari, NM 88401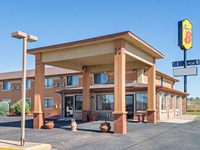 The Super 8 is the closest motel to the junction of E Tucumcari Boulevard with I-40, the easternmost of Tucumcari's five interstate exits; located in rural surroundings backing on to open countryside. Nearby are a few restaurants, gas stations and other lodging, but most facilities in the area are between 2 and 4 miles west. Guest rooms are divided into two interior corridor blocks, separated by a patio and indoor pool, and with the parking lot on the west side. Other amenities are limited to free wi-fi and the familiar free continental breakfast.