Gardnerville
sits along US 395 close to the
East Fork Carson River
, adjoining the slightly larger town of
Minden
. The steep slopes of the Sierra Nevada rise up just a few miles west, separated by a belt of irrigated, agricultural land, while to the east, the terrain quickly becomes arid and empty, sloping more gradually towards the Pine Nut Mountains. The center of Gardnerville is 20 miles from
Lake Tahoe Nevada State Park
on the east shore of Lake Tahoe, and a similar distance from
Topaz Lake
, to the south, location of a couple of hotels. All other facilities are in the downtown area. Besides Lake Tahoe, the hotels are also within 70 miles of such places as Mono Lake, the ghost town of Bodie and the east entrance to Yosemite National Park.
Map of Hotels in Gardnerville, NV

1.
Best Western Topaz Lake Inn
3410 Sandy Bowers Avenue, Gardnerville, NV 89410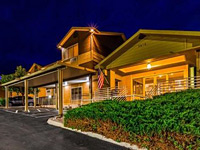 Although its address mentions Gardnerville, the Best Western Topaz Lake Inn is actually 20 miles south of the town along US 395, 1 mile from the Nevada/California border. The hotel occupies an elevated position on the shores of Topaz Lake; all rooms look out east over the lake, half a mile away, and on towards distant mountain ranges, while views to the west are spectacular too, with the Sierra Nevada range rising just a few miles away. The lake is popular for swimming, water skiing, fishing and boating, and the lakeshore village includes a casino/restaurant/lounge for evening entertainment. Free continental breakfast, a fitness center, hot tub and free wi-fi are the main amenities.

2.
Super 8 by Wyndham Gardnerville Topaz Lake
1979 Hwy 395 South, Gardnerville, NV 89410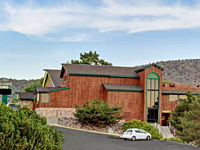 35 miles south of Carson City and 20 miles from Gardnerville, the pet friendly Super 8 enjoys a peaceful, tree-lined setting beside a small residential community bordering scenic Topaz Lake, along US 395 close to the California stateline. A restaurant and 24 hour casino are adjacent, while the motel offers plenty of facilities of its own, including a coffee shop, meeting room, games room, outdoor pool and free continental breakfast. There are many scenic places within a hour's drive, such as
Lake Tahoe
,
Bodie
and
Mono Lake
.
All hotel listings link direct to the brand website for reservations and for the guaranteed lowest rates
Nearby Cities
Minden
, 22 miles
Carson City
, 36 miles
South Lake Tahoe
, 40 miles
Reno
, 66 miles
(distances from Topaz Lake)
Nevada Hotel Brands