1.
Kessler Canyon, Autograph Collection
4410 County Road 209, De Beque, CO 81630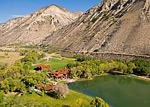 Set in a particularly remote region of ravines and ridges, surrounded by unspoilt public lands, the Kessler Canyon Resort from Marriott Hotels offers guests a wonderfully quiet, scenic and peaceful place to stay, with many recreation activities including fishing, hiking, cycling, hunting, horse riding and ATV use. The resort is 21 miles northwest of De Beque, a small town beside the Colorado River near I-70 exit 62, and is reached by an easy drive on a paved road down a long, narrow valley. The hotel is small, with just 15 individual rooms, and provides high class, personal service, including cooked-to-order meals at the restaurant - no set menu. Other facilities include meeting space, a games room, fitness center and whirlpool.