1.
Marriott Boulder
2660 Canyon Boulevard, Boulder, CO 80302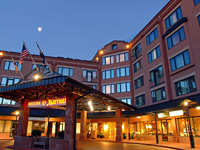 The Marriott is amongst the most upscale hotels in Boulder, and features luxurious rooms, a high standard of customer care, full service amenities, though also rather high rates. It has an excellent location close to University of Colorado and the town center, right next to Crossroads Mall and its associated restaurants, bars, movie screens & other entertainment outlets. The hotel is medium-sized, with 157 rooms, all elegantly decorated in a boutique style; concierge level rooms have added benefits like access to a private lounge and a rooftop terrace. The on-site restaurant/lounge is JW's Steakhouse, open for breakfast, lunch & dinner. For leisure the Marriott offers a pool, hot tub, fitness center and spa, while for meetings there are 6 rooms (5,400 sq ft of space) and a business center.

2.
Courtyard Boulder
4710 Pearl East Circle, Boulder, CO 80301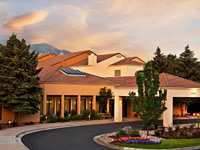 One of three Marriott hotels in Boulder, the Courtyard is a typically clean, modern and well managed property of 149 rooms, arranged around the familar courtyard garden in which are found a gazebo, mature trees and shaded paths. The hotel has a slightly out-of-the-way location in a business park next to the Foothills Parkway - quiet, apart from occasional trains on the nearby railway - and within 2 miles of the town center, University of Colorado, Flatirons Golf Course, Boulder Airport and Crossroads Mall. The main amenities of the Courtyard are a cafe serving breakfast, a pool, hot tub, fitness center, and two meeting rooms - largest capacity 40 guests.
3.
Residence Inn Boulder
3030 Center Green Drive, Boulder, CO 80301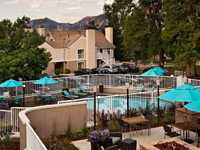 The 128 studio, one bed or two bed suites at Residence Inn Boulder are divided into over a dozen individual buildings surrounded by trees and walkways, located at the busy junction of Valmont Rd with the Foothills Parkway - 2 miles east of downtown Boulder and 1.4 miles from the municipal airport. All the rooms have a full kitchen, a fireplace, large work desk, pull-out sofa bed, and of course the luxurious Marriott bedding. There are plenty of restaurants nearby, and a grocery shopping service is available, though both free full breakfast and a free evening reception (weekdays) are provided free at the hotel, which also has a fitness room, outdoor pool, hot tub, guest laundry and a meeting room.

4.
Embassy Suites by Hilton Boulder
2601 Canyon Boulevard, Boulder, CO 80302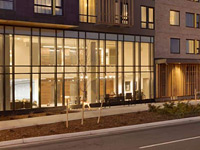 Newly constructed in 2017, the Embassy Suites hotel has a central location at the edge of the main commercial district of Boulder, Market Square, within walking distance of numerous restaurants and shops. All accommodations are two-room suites, equipped with a microwave, refrigerator, executive desk and sofa bed. Studio suites have extra space and amenities. The hotel provides both free hot, cooked-to-order breakfast and free evening receptions, while lunch, dinner & evening drinks are available at the onsite restaurant/bar. Other highlights are a two storey fitness center, a rooftop outdoor pool and comprehensive event facilities, including the largest ballroom in the city, 6,500 square feet.

5.
Homewood Suites by Hilton Boulder
4950 Baseline Road, Boulder, CO 80303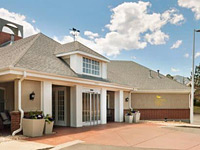 The extended stay lodging at Homewood Suites Boulder is divided into several 2 floor blocks centered on a tree-lined courtyard garden with pool and flower beds; apartment-style accommodation of 112 studio, one bed or two bed suites, all featuring a full kitchen and high quality furnishings. Hot breakfast is complimentary, as is the weekday evening reception (Mon to Thu), where snacks and drinks are provided. Meeting space, business center, convenience store, fitness center and sports court are some of the other amenities. Attractions within walking distance include Burke Park, Flatiron Athletic Club and Meadows on the Parkway Shopping Center; Boulder city center and the University of Colorado are 3 miles northwest.

6.
Hampton Inn & Suites Boulder North
6333 Lookout Road, Boulder, CO 80301
Hampton Inn Boulder is situated in the far northeast of the city, away from other hotels in the area - along Hwy 119 in the Gunbarrel business/commercial district, within walking distance of a good selection of restaurants. Nearby locations include Boulder Reservoir and its adjacent park, Boulder Country Club and the municipal airport. The hotel provides good quality free hot breakfast, which is available in a take-out version for guests leaving early (Mon-Fri), and free evening receptions with beer & wine (Mon-Thu). Guests can also take advantage of all the usual facilities for meetings, business and leisure.

7.
Hyatt Place Boulder/Pearl Street
2280 Junction Place, Boulder, CO 80301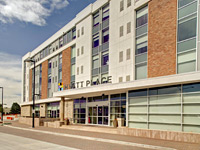 Free hot breakfast, a 24 hour market/snack bar, an indoor pool, meeting space and free hot breakfast are the main amenities of Hyatt Place Boulder, a recently-constructed hotel in the Depot Square section of the Boulder Junction development. Access is from the Pearl parkway exit of the Foothills Parkway, Hwy 157. There are many restaurants and large stores in the vicinity. Many of the 150 guest rooms have fine views across the city to the Rocky Mountains, while others overlook a small courtyard garden on the east side.

8.
Holiday Inn Express Boulder
4777 North Broadway, Boulder, CO 80304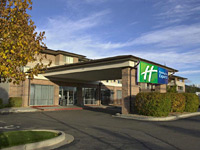 Right at the north edge of Boulder near the junction of 28th St (US 36) with Broadway St (Hwy 7), the Holiday Inn Express is a relatively old property but well maintained, quiet, and with good facilities. Free deluxe continental breakfast is served, including some hot items. All 106 rooms & suites (on 3 floors) contain a microwave and refrigerator. Leisure amenities are the usual whirlpool, fitness center and pool (outdoor). A good choice of restaurants can be found 2 blocks south along Broadway St, though most other facilities in Boulder are 3 miles south in the downtown district. Much closer is the open countryside and the foothills of the Rocky Mountains, just a mile to the west.

9.
Best Western Plus Boulder Inn
770 28th Street, Boulder, CO 80303-2343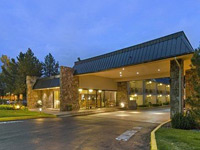 In south central Boulder next to the University of Colorado, the 2 story Best Western Boulder Inn provides 98 large, comfortable rooms all with balcony or patio, and most having views of the Rocky Mountains to the west. Some overlook the hotel's outdoor pool, in the middle of the property; other amenities include the usual free continental breakfast, a steam room, hot tub, guest laundry, 24 hour business center, and one meeting room. The inn is right next to US 36 by the Baseline Rd junction, a mile south of the new Twentyninth Street shopping/entertainment complex and adjacent retail centers.

10.
Days Hotel Boulder
5397 South Boulder Road, Boulder, CO 80303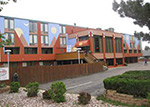 The Days Hotel offers the southernmost chain lodging in Boulder, adjoining a business park just off US 36, yet is also close to the edge of open fields and parkland. There are two restaurants nearby and others (plus Safeway supermarket) one mile north along Foothills Parkway. The inn has three floors, interior corridors, an outdoor pool at the front, and business/meeting facilities inside. Free continental breakfast is served. Other complimentary amenities are wi-fi and a shuttle to Boulder Airport, 4 miles north.

11.
Rodeway Inn & Suites Boulder
555 30th Street, Boulder, CO 80303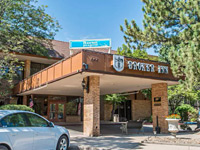 Formerly the Broker Inn, Boulder's new Rodeway Inn sits along a short side street just off Baseline Road near the south edge of town, next to a small shopping center. Although highway 36 runs past just to the west, the inn is quiet and peaceful, surrounded by trees, and many of its 118 rooms have mountain views. The edge of the University of Colorado campus is half a mile away, with the main shopping area in Boulder (Crossroads Mall) one mile north. Some guest rooms have one or more of a microwave, refrigerator, wet bar and executive desk; hotel amenities include a restaurant, bar, free breakfast (continental), outdoor pool, hot tub, games room and meetings/banquet space.