1.
Best Western Westminster Inn
5755 Westminster Blvd, Westminster, CA 92683-3541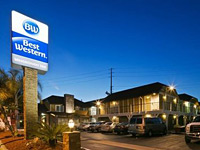 Regarded by many as the top hotel in town, Best Western Westminster Inn has a quiet location in a residential area half a mile from I-405, though still just a short walk from several restaurants and a small supermarket. The place is quite small, with 2 floors and 44 rooms, all looking out over a pleasant landscaped garden and outdoor pool on the north side of the building, away from the main road (Westminster Boulevard). All rooms are equipped with a refrigerator/microwave, contain new furniture, and are well decorated in a variety of subtle colors. Several suites are available with a kitchenette and extra living space. The staff are friendly, rates quite low, and the hotel provides a good quality free continental breakfast. Nearby attractions include Westminster Mall (1.5 miles), Sunset Beach (5 miles) and Disneyland (10 miles).

2.
Best Western Palm Garden Inn
13659 Beach Blvd, Westminster, CA 92683-3203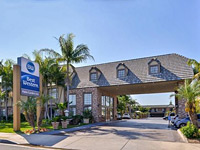 One of two well reviewed Best Western hotels in Westminster, Orange County, the Palm Garden Inn is situated half a mile south of the 22 Freeway along busy Beach Boulevard, though most of the rooms have a quiet aspect, facing inwards over an enclosed courtyard parking area, in the middle of which is a nice outdoor pool and hot tub. Every room contains a microwave and refrigerator; some have a whirlpool bath and king sized beds. The standard free continental breakfast is available, and there are plenty of restaurants within walking distance along the main road, plus a Wal-Mart one block north. Beach Boulevard leads directly to Huntington Beach, 8 miles south.

3.
Quality Inn & Suites Westminster Seal Beach
6601 Westminster Avenue, Westminster, CA 92683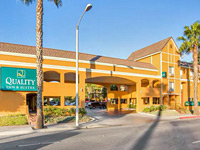 The secure, tree-lined parking lot at Quality Inn Westminster is accessed through a high driveway at the front of the building, which has rooms on two or three floors, and is situated along Westminster Boulevard, 0.4 miles east of the I-405 intersection. Immediately east is a shopping center, including Home Depot and Albertson's supermarket, while Westminster Mall is one mile south. All guest accommodations feature a refrigerator, work desk and free wi-fi, and some have views over the sheltered outdoor pool. The standard free continental breakfast is provided.

4.
Super 8 Westminster, CA Huntington Beach Area
15559 Beach Blvd, Westminster, CA 92683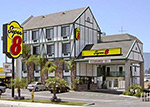 The Super 8 has a southerly location in Westminster, beside I-405 along Beach Boulevard, which to the south reaches the Pacific Ocean at Huntington Beach after 6 miles. The motel occupies a compact, elegant, four floor building of 100 rooms, which are entered via exterior corridors around a semi-enclosed courtyard, setting for the outdoor pool. The somewhat limited parking is at the front, beside the main road, or in a smaller lot at the rear. A shopping center one block north includes a good selection of restaurants, many Asian-themed. The motel provides free wi-fi and free eight-item continental breakfast. All guest rooms contain a refrigerator and microwave.

5.
Motel 6 Westminster North
13100 Goldenwest Street, Westminster, CA 92683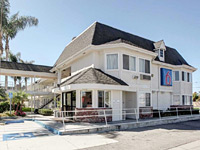 Rooms at the pet friendly Motel 6 Westminster North are on two floors accessed by exterior corridors; in two blocks either side of a secluded courtyard garden with outdoor pool and tall palm trees. The motel is part of a typical suburban neighborhood of houses, shops and restaurants beside the Garden Grove Freeway, on the border between Westminster and Stanton, and half way (7 miles) between Disneyland and the Pacific Ocean at Sunset Beach. Rates are low, on account of the basic amenities - just free coffee and wi-fi.

6.
Motel 6 Westminster South - Long Beach Area
6266 Westminster Blvd, Westminster, CA 92683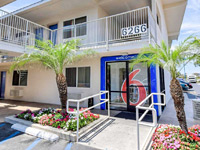 Motel 6 Westminster South faces I-405 (east side) at the Westminster Boulevard intersection, close to several fast food restaurants and small stores. The basic but comfortable rooms are divided into three blocks surrounded by the parking lot, with an outdoor pool to one side, next to a few palm trees. Amenities are limited, but standard for this chain, comprising free coffee, free local calls and wi-fi. Nearby locations include Westminster Mall (1 mile), Old Ranch Golf Course (5 miles) and Seal Beach National Wildlife Refuge (5 miles). The Pacific Ocean at Sunset Beach is 6 miles southwest.