1.
Best Western Americana Inn
815 W San Ysidro Blvd, San Ysidro, CA 92173-1827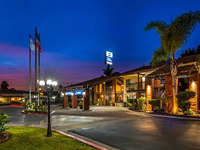 Midway between the centers of San Ysidro and Otay Mesa, Best Western Americana Inn makes an ideal base from which to visit Tijuana, Mexico - the international border is just 2 miles south, while San Diego lies 12 miles to the north, an easy journey along I-5 which runs right past the hotel (access is via exit 2, Dairy Mart Road). Rates are relatively low though service and cleanliness are good, with a decent list of amenities that includes free continental breakfast, an outdoor pool, spa, guest laundry, and a microwave & refrigerator in all 120 rooms. There are at least six fast rood restaurants within a few minute's walk.

2.
Quality Inn & Suites San Ysidro
930 W San Ysidro Boulevard, San Ysidro, CA 92173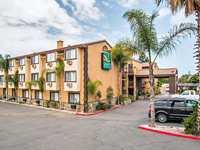 The affordable, reliable Quality Inn San Ysidro has 66 rooms & suites, in a compact three story, exterior corridor building at the Dairy Mart Road intersection of I-5, 2 miles from the Mexican border. Close by is the usual selection of fast food restaurants though most of the neighborhood is residential; the nearest shops are a little way south, along the eastern frontage road. The hotel features an outdoor pool, convenience store, meeting space, guest laundry and free breakfast, which includes a few hot items. Rooms are available with a sofa bed, microwave and refrigerator.

3.
Travelodge San Ysidro
190 East Calle Primera, San Ysidro, CA 92173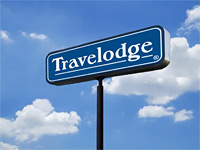 There are not many facilities at Travelodge San Ysidro, just free internet access, free continental breakfast and a microwave/refrigerator in each room, but the motel receives good reviews on account of its cleanliness, comfort, the helpful staff and the low rates. The four accommodation blocks are linked by exterior corridors, and enjoy a relatively quiet location, on a side street close to the I-5/I-805 intersection. Nearby are several restaurants, while a short walk south reaches Las Americas Premium Outlets, a 125-store mall adjacent to the international border.

4.
Rodeway Inn San Ysidro
643 East San Ysidro Boulevard, San Ysidro, CA 92173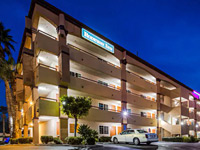 The Rodeway Inn is the closest San Ysidro hotel to Tijuana - located on the east side of the I-5/I-805 intersection next to a few shops & restaurants, half a mile from the international border, and also within walking distance of Las Americas Premium Outlets Mall. The four story, pet friendly, exterior corridor motel offers reasonable rates and basic services, namely free continental breakfast, wi-fi, laundry, copy/fax services and a microwave/refrigerator in each of the 69 guest rooms.

5.
Motel 6 San Ysidro - San Diego/Border
160 E Calle Primera, San Ysidro, CA 92173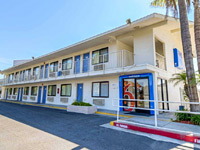 The Motel 6 in San Ysidro sits on the edge of a residential area by the I-805/I-5 intersection, right next to one restaurant (Denny's), and a short walk from several more, beside San Diego Factory Outlet Center and Las Americas Mall just down the street. The motel has a small outdoor pool at the front and a sheltered parking area on the west side, away from the main road. The staff are friendly and room rates are low, on account of the limited amenities - wi-fi, laundry, cable TV and free coffee. The Mexican border is just 1.5 miles south.
6.
Knights Inn San Ysidro
230 Via De San Ysidro, San Ysidro, CA 92173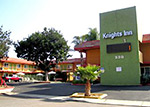 Lodging at the pet friendly Knights Inn San Ysidro is basic, affordable, and relatively quiet, since although I-5 runs close by, the motel is set back a little from the highway behind a gas station and restaurant, and is surrounded on most sides by private homes. Las Americas Premium Outlets is half a mile south, and the international border just over one mile away. Some of the 119 guest rooms overlook a secluded outdoor pool at the front of the property, and many contain a microwave and refrigerator. Free wi-fi is available.