1.
DoubleTree Hotel San Jose
2050 Gateway Place, San Jose, CA 95110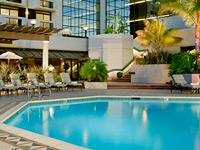 With 505 spacious guest rooms (minimum area 405 sq ft) in two substantial, eight floor towers, the Doubletree is the largest hotel in San Jose, occupying an extensive site on the south side of US 101 by the Airport Parkway exit, 1.2 miles by road from the international airport (free shuttle provided). Many of the south-facing rooms overlook the enclosed courtyard garden and oversized outdoor pool, which are also visible from the Lobby Lounge/Bar, offering all-day drinks and snacks. Other food & beverage outlets are a wine bar, Starbucks kiosk, a sushi bar, Srigs (a breakfast restaurant), and Spencer's Steak House, open for fine dining in the evenings. Room service is available between 6 am and 10 pm. The hotel has 48,000 sq ft of event space, also the best in the city.

2.
Holiday Inn San Jose - Airport
1350 N 1st Street, San Jose, CA 95112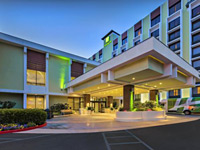 Holiday Inn San Jose Airport opened summer 2012 after full renovation of an existing property (Wyndham), adding to the wide range of lodging choices near the international airport. The hotel sits along 1st Street, one block from I-880, 1.7 miles from the terminals (served by free shuttle) and 3 miles north of downtown. Highlights of this large, full service property are a secluded outdoor pool, an all day restaurant (room service available), a lounge/bar, a 24 hour business center and in excess of 12,000 sq ft of meeting space that accommodates events of up to 1,200 people. Accommodations include a selection of suites with one or more of a sofa bed, hot tub bath and kitchen facilities.

3.
Staybridge Suites San Jose
1602 Crane Court, San Jose, CA 95112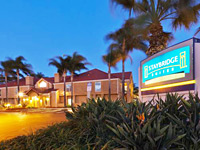 The Staybridge Suites is one of the top rated hotels in San Jose on account of its quiet location, immaculate rooms and public areas, friendly staff, good facilities, and the above average free breakfast. The inn also provides a free afternoon reception (Mon-Thu), when snacks and beer/wine are available. There are 114 suites available, split into several blocks surrounded by palm trees, lawns and walkways, with an outdoor pool and hot tub at the center. All the rooms include a full kitchen plus dishwasher, together with separate sleeping/living areas. Other services are a free 5 mile radius local area shuttle, fitness center, business center and a convenience store. The hotel is situated just northwest of the junction of US 101 and I-880 - 4 miles from downtown San Jose and 1 mile from the international airport.

4.
Courtyard San Jose Airport
1727 Technology Drive, San Jose, CA 95110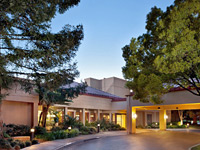 Courtyard San Jose Airport offers the closest lodging to the terminal buildings - in a business park just 0.2 miles east, so easily walkable though the hotel does of course operate a complimentary shuttle service. Highway 87 runs right past the hotel yet this is a quiet, comfortable place to stay, with the hotel surrounded by mature trees and centered on a pleasant courtyard garden containing pool and gazebo. Breakfast and dinner are served on site at the Bistro, while other meals are available from nearby restaurants along Skyport Drive.

5.
Courtyard San Jose North/Silicon Valley
111 Holger Way, San Jose, CA 95134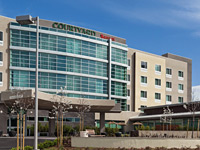 The new Courtyard by Marriott (open August 2013) is positioned 7 miles north of San Jose, 3 miles west of Milpitas and 7 miles east of Mountain View - along the Southbay Freeway, at the edge of an extensive business park. There are a few restaurants within walking distance and several shops including Target, but the nearest major shopping area is 3 miles away (Great Mall of the Bay Area). The hotel features a welcoming lobby with media board, the Bisto restaurant open for breakfast & dinner, a fitness center and indoor pool/hot tub, plus the expected facilities for meetings & business. There are 158 rooms and suites available, all with work desk, refrigerator and sofa bed.
6.
Residence Inn San Jose Airport
10 Skyport Drive, San Jose, CA 95110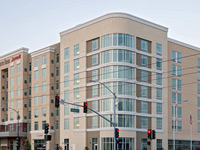 New for spring 2015, the Residence Inn is one of the closest hotels to San Jose Airport, located along the main approach road (Skyport Drive), at the intersection with 1st Street. Another Marriott property (SpringHill Suites) shares the building, and some of the facilities. The Residence Inn has 175 suites in studio, one bedroom and two bedroom layouts, all featuring a full kitchen; food can be ordered using the free grocery delivery service. Daily hot breakfast end weekday evening receptions are complimentary. Facilities include an outdoor pool, fitness center, convenience store and seven meeting rooms. The hotel is well connected to nearby locations by the US 101, I-880 and 87 freeways.

7.
Homewood Suites by Hilton San Jose Airport Silicon Valley
10 West Trimble Road, San Jose, CA 95131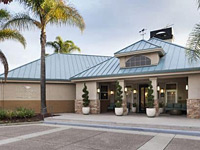 Homewood Suites San Jose Airport features luxurious, extended stay accommodation, catering for guests in 140 two bedroom, one bedroom or studio suites that all contain a full kitchen, plus a sofa bed and work desk. Wi-fi is complimentary, as is the grocery shopping service, though both hot breakfast and evening receptions (Mon-Thu) are provided free of charge. The complimentary shuttle serves the international airport and other locations within a three mile radius. Business guests can take advantage of two meeting rooms and a business center, while leisure amenities are a basketball court, pool/hot tub (outdoor) and fitness center. Accommodations are divided into several three story, tree-lined blocks, and the whole site has a quiet location, in a business park one mile north of US 101.
8.
TownePlace Suites San Jose/Cupertino
440 Saratoga Avenue, San Jose, CA 95129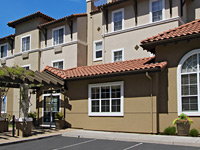 Marriott's TownePlace Suites hotel in San Jose is situated on the west edge of town, equidistant from the centers of Cupertino, Santa Clara and Campbell - it sits in a semi-residential area alongside busy Saratoga Avenue, one block from I-280. The hotel is aimed primarily at the extended stay market, with 101 clean, modern suites containing a full kitchen, extra sofa bed, and separate areas for living & sleeping. Food for cooking can be purchased from a supermarket just across the street, though the neighborhood also has many restaurants, and there are 2 large shopping centers 1.5 miles east (Westfield Valley Fair and Santana Row). For relaxation, the hotel has an outdoor pool, hot tub and fitness center.

9.
SpringHill Suites San Jose Airport
10 Skyport Drive, San Jose, CA 95110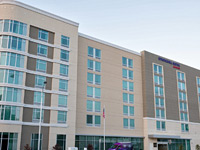 SpringHill Suites San Jose occupies half of an eight floor, L-shaped building on the corner of 1st Street and Skyport Drive, just half a mile from the international airport. The 146 room property is scheduled for a spring 2015 opening, and shares various facilities with the adjacent Residence Inn, including a detached three storey garage, outdoor pool, fitness center, meeting space and gift shop. Free daily breakfast is provided, with a few hot items, and a small selection of restaurants are close by; more can be found a few blocks south along 1st Street. Guest rooms contain a refrigerator, microwave and sofa bed.

10.
Best Western Airport Plaza
2118 The Alameda, San Jose, CA 95126-1140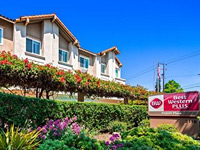 Best Western Airport Plaza occupies a pleasant, tree-lined site along Highway 82 (The Alameda), two blocks from I-880 on the border between San Jose and Santa Clara. The hotel is quiet, clean and well maintained, with amenities of free continental breakfast, an outdoor heated pool, and a free shuttle to San Jose Airport (4 miles away). Also nearby are Santa Clara University, Westfield Valley Fair Mall and the HP Pavilion. There is one restaurant opposite and a few more around the university.

11.
Fairfield Inn & Suites San Jose Airport
1755 North First Street, San Jose, CA 95112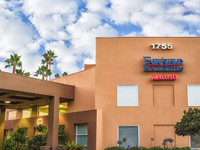 Centerpiece of the 186 room Fairfield Inn & Suites San Jose is a beautiful garden containing a pool, hot tub, large patio and many tall palm trees, all of which contribute to the relaxed, resort-like atmosphere, yet the place is moderately-priced and has an older, motel-style design featuring 2 story accommodation blocks linked by exterior corridors. The inn is situated a mile from the airport next to US 101 - along First Street, which reaches the center of San Jose 2.5 miles south. In the other direction, Highway 101 leads towards the many businesses of Silicon Valley. The hotel provides free breakfast including a hot sandwich.

12.
Quality Inn Silicon Valley
2390 Harris Way, San Jose, CA 95131
Near the northern edge of San Jose, the Quality Inn provides good, comfortable, relatively cheap accommodation with quick freeway connections to nearby attractions - I-880 is one block west, and I-680 1.7 miles east, along the Montague Expressway. The hotel is part of a narrow band of private residences between two of Silicon Valley's business districts but is also within a mile of the many shops and restaurants at the Great Mall of the Bay Area. Free deluxe continental breakfast, free shuttle to San Jose Airport, an exercise room and guest laundry are the main services available.

13.
Comfort Suites San Jose Airport
1510 N First Street, San Jose, CA 95112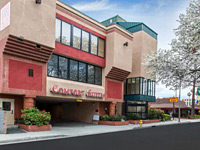 The Comfort Suites hotel provides both short and long stay accommodation for travelers to San Jose, the international airport or Silicon Valley. There are 51 well appointed rooms & suites, all with microwave & refrigerator, plus a full kitchen in the deluxe two room suites. Free hot breakfast is served or for even more choice there is a Denny's restaurant right next door. Also close by (one block) is a stop of the light railway system, so allowing for easy travel into downtown San Jose. Free 24 airport transport is offered, via local taxi.
14.
Comfort Inn San Jose
875 N 13th Street, San Jose, CA 95112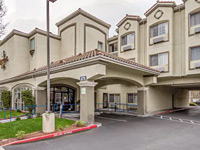 San Jose's Comfort Inn hotel is situated in a residential neighborhood, 2.5 miles from San Jose State University and the downtown area. Four blocks north, US 101 provides quick access to most area locations including the international airport, 3 miles to the west. The inn is quite a new building of 50 clean, well furnished rooms containing a microwave and refrigerator; the other main amenity is free continental breakfast. Along the main road past the hotel (13th Street) are several nearby restaurants, but there isn't much else of interest in the vicinity.

15.
Days Inn San Jose Airport
1280 N Fourth Street, San Jose, CA 95112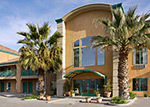 Guest rooms at Days Inn San Jose Airport face north, looking across the parking lot to the adjoining business district, or south, with views of the slightly elevated lanes of I-880 which runs right past. This location is just west of the US 101 intersection and 1.5 miles from the airport terminals. Other travel options are provided by the light rail service; the nearest station (Gish 1) is 2 blocks away. Most rooms have a microwave and refrigerator, while hotel amenities are wi-fi and continental breakfast, both complimentary, plus a business center.

16.
Motel 6 San Jose Airport
2081 N 1st Street, San Jose, CA 95131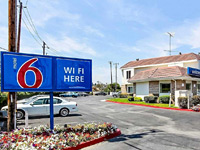 The rooms at Motel 6 San Jose Airport are modern, brightly decorated in white and orange, though the building is quite old, a traditional exterior corridor, two floor structure, surrounded by an average-sized parking lot. Amenities are wi-fi, coin-operated laundry and free morning coffee. The low-price, pet friendly motel is part of a busy business/commercial district either side of US 101, half a mile north of the international airport and 3 miles from the city center. 24 hour dining is available from the adjacent Denny's restaurant.

17.
Motel 6 San Jose Convention Center
1041 The Alameda, San Jose, CA 95126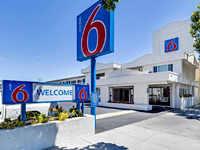 Motel 6 San Jose has a small frontage along the access road (The Alameda), though the two story, exterior corridor building extends quite far back, so most rooms are quiet, looking out westwards across the parking lot and outdoor pool towards adjacent buildings. Accommodations are furnished with modern fixtures & fittings, colorfully decorated, and all are equipped with a microwave & refrigerator. Morning coffee and wi-fi are complimentary. McEnery Convention Center is 1.4 miles east. on the far side of Hwy 87, while the SAP Center is half a mile away.

San Jose Hotels: North/Airport | Downtown | South


Downtown San Jose Hotels

18.
Marriott San Jose
301 South Market Street, San Jose, CA 95113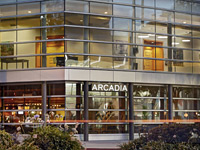 One of the more upscale hotels in San Jose, the Marriott rises 26 floors above the downtown area close to the I-280/Highway 87 junction, a few blocks from San Jose State University and right next to the McEnery Convention Center. Its own meetings facilities are also quite comprehensive, with a 24 hour business center, professional staff, 16 meeting rooms and 21,000 sq ft of event space. Although primarily a business hotel, leisure travelers are well catered for; the Marriott San Jose offers all the expected recreational amenities, plus two restaurants, a gift shop, concierge floors, room service and valet parking.

19.
Hilton San Jose
300 Almaden Boulevard, San Jose, CA 95110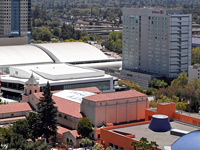 The 353 room/suite Hilton San Jose is connected by walkways to the adjacent McEnery Convention Center, and within two blocks of many other city center locations such as Center for the Performing Arts, Tech Museum of Innovation, Discovery Meadow and the Children's Discovery Museum, while San Jose State University is half a mile east. The Convention Center light rail station is also adjacent. The hotel has a rooftop outdoor pool/sun deck at the front, and an underground parking lot accessed at the rear; inside, facilities include the Affinity restaurant/bar, serving breakfast, lunch and dinner plus room service. Al fresco dining is available. Onsite meeting facilities are also comprehensive, including seven rooms, maximum capacity 400 people.

20.
AC Hotel San Jose Downtown
350 W Santa Clara Street, San Jose, CA 95113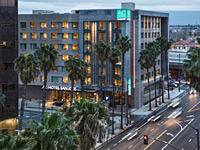 AC Hotel San Jose Downtown (open April 2016) is one of the first US properties from a new Marriott hotel chain, combining European style with contemporary American themes. The nine floor hotel occupies a relatively small site at the west edge of downtown San Jose along Santa Clara Street, beside the 87 Freeway and 3 miles from the international airport - a busy, urban location but just a short walk from peaceful, wooded surroundings beside the Guadalupe River, which is followed by two hiking trails. Hotel highlights include a large, street-level lounge/bar, a library with media outlets, a 24 hour fitness center, a snack shop and a comprehensive business center.

21.
Days Inn San Jose Convention Center
4170 Monterey Road, San Jose, CA 95111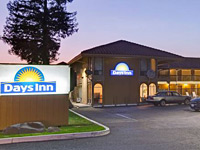 Lush lawns and tall trees help create a peaceful atmosphere at Days Inn San Jose, a 34 room motel in a residential neighborhood along Monterey Road close to the Capitol Expressway intersection, 5 miles southeast of the city center. One block north is a shopping center with a good choice of restaurants. Many of the guest rooms have views of the outdoor pool and hot tub, set in a private courtyard. Some contain a hot tub bath, microwave and refrigerator. The usual two complimentary amenities of breakfast (continental) and internet access are provided.

San Jose Hotels: North/Airport | Downtown | South


South San Jose Hotels
22.
Residence Inn San Jose South
6111 San Ignacio Avenue, San Jose, CA 95119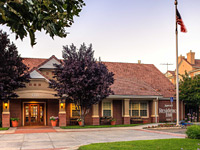 Near the southeast edge of San Jose, the 150 room Residence Inn by Marriott caters primarily for long stay guests, in modern suites that have separate areas for sleeping, living, working and eating - including a full kitchen equipped with oven, dishwasher, microwave and refrigerator. The inn lies a few blocks south of US 101 along Bernal Road, bordered on one side by a residential district and on the other by a business park, yet many of the rooms enjoy relaxing views towards the nearby hills. Free full American breakfast and evening reception are provided, plus leisure amenities of fitness center, outdoor heated pool and a whirlpool.

23.
Hampton Inn & Suites San Jose
55 Old Tully Road, San Jose, CA 95111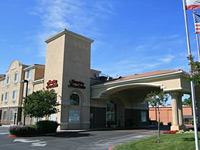 San Jose's Hampton Inn hotel has a rather out-of-the-way location just off Monterey Road (Hwy 82) at the edge of an extensive business park, shielded from the main street behind a supermarket. Rooms are in two blocks facing each other across the parking lot, which is enlivened by trees, lawns and flower beds. Downtown San Jose is 4 miles northwest, while the international airport is 7.5 miles away. Guest rooms are equipped with a microwave, refrigerator, coffee maker and free wi-fi; the suites have a sofa bed and extra living space. The free hot breakfast is also available in a take out version. The hotel also has a fitness center, two meeting rooms and an outdoor pool, on the sheltered north side of the building.

24.
Clarion Inn Silicon Valley
3200 Monterey Road, San Jose, CA 95111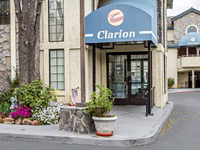 At 3200 Monterey Road, the Clarion Inn Silicon Valley is about 3.5 miles southeast of downtown San Jose, and well connected to places nearer the center by the 87 Freeway. There is not much in the immediate neighborhood apart from a few restaurants and a small shopping center. The hotel has 46 fairly standard rooms, plus amenities of free deluxe continental breakfast (with hot waffles), meeting space, an outdoor heated pool, spa, sun deck and an exercise room. A microwave and refrigerator are installed in all accommodations; also available are several two-room suites featuring a whirlpool bath.

25.
Holiday Inn Express San Jose-Central City
2660 Monterey Road, San Jose, CA 95111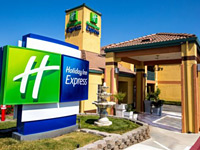 The southernmost of the two Holiday Inn Express hotels in San Jose has nice new decor but an old-style design with its 57 rooms and suites on 2 floors, linked by exterior corridors around 2 sides of the parking area. At the back, out of sight of the main road, is an outdoor pool and hot tub. The inn lies 3.5 miles from downtown San Jose along Monterey Road, in a mixed residential/industrial area about half way between highways 101 and 87. It also offers free hot breakfast buffet, a fitness center, sauna and newsstand.

26.
Best Western Plus Lanai Garden Inn & Suites
1575 Tully Road, San Jose, CA 95122-2459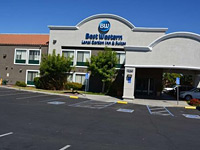 The two story Best Western Lanai Garden Inn is located right next to the main road into San Jose from the south (US 101 - at the Tully Road exit), in quite a busy neighborhood with plenty of restaurants and stores. The city center is 4 miles north, and all the main sites in Silicon Valley are within 20 more miles. The inn is a fairly average place, offering relatively cheap accommodation, with all the usual services including free continental breakfast, a heated outdoor pool and a microwave/refrigerator in each of the 52 rooms and suites.

27.
Motel 6 San Jose South
2560 Fontaine Road, San Jose, CA 95121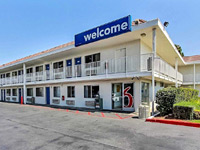 The southernmost of several Motel 6 properties in San Jose is situated at the Tully Road exit of US 101 close to many business premises, and half a mile from a shopping center that includes a supermarket and several dozen restaurants. The motel has the familiar two floor, exterior corridor layout, the rooms in two main blocks surrounded by an extensive parking lot. The quieter of the two, away from the freeway, is centered on a courtyard garden with outdoor pool. Other motel amenities are wi-fi, free morning coffee and coin-operated laundry,