1.
Courtyard Ontario Rancho Cucamonga
11525 Mission Vista Drive, Rancho Cucamonga, CA 91730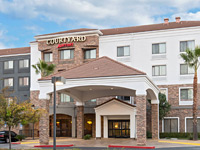 The Courtyard is one of a small group of hotels close to Ontario Mills Mall on the southeast side of Rancho Cucamonga, 3 miles from Ontario International Airport and 1 mile from the I-15/I-10 intersection. The 117 well presented rooms & suites are part of a handsome, four story building - the newer design for this brand, lacking a central courtyard but with a pleasant garden area at the rear. The pool & hot tub are indoors, as are a business center, laundry, 24 hour convenience store, fitness center and the Bistro restaurant, which is open for breakfast (buffet or cooked-to-order) and evening drinks. Internet access is free. The hotel's outdoor meeting/event space can accommodate up to 175 guests.

2.
Homewood Suites by Hilton Ontario-Rancho Cucamonga
11433 Mission Vista Drive, Rancho Cucamonga, CA 91730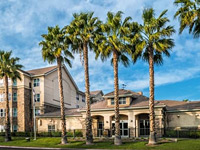 Like most hotels in Rancho Cucamonga, the Homewood Suites enjoys quiet surroundings a short distance north of Ontario Mills Mall, located along a side street at the edge of a business park. One other attraction nearby is Empire Lakes Golf Course, half a mile west. The hotel features upscale, extended stay/all-suite lodging, with accommodations in two bedroom, one bedroom and studio layouts, all of which have a fully equipped kitchen. Both daily free hot breakfast and evening light dinners (Mon-Thu) are complimentary, as are wi-fi and a grocery shopping service. A sports court, fitness center, hot tub and outdoor pool are the recreation amenities, while business travelers have use of a meeting room and business center. Drinks, snacks and cookable meals can be purchased from a 24 hour convenience store.

3.
Hilton Garden Inn Ontario/Rancho Cucamonga
11481 Mission Vista Drive, Rancho Cucamonga, CA 91730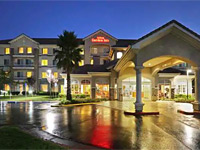 The Hilton Garden Inn is less than a quarter of a mile from the many shops and restaurants at Ontario Mills Mall, and just 4 miles from Ontario International Airport. Travel to other area locations is facilitated by the nearby freeways I-15 and I-10. Onsite dining is provided by the Great American Grill, open for breakfast, dinner, evening room service & evening drinks, while a convenience store sells snacks, drinks and other sundries. All facilities are indoors, including a pool, fitness center, business center and three meeting rooms. Besides the regular guest rooms there are various suites available, with a sofa bed and separate living area.
4.
TownePlace Suites Ontario Airport
9625 Milliken Avenue, Rancho Cucamonga, CA 91730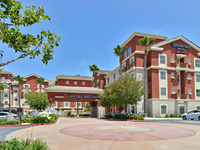 Just across the street from a Marriott sister property (the Courtyard), TownePlace Suites Ontario Airport features affordable, all suite, extended stay accommodation - the 112 rooms are available in three configurations (studio, one bed or two bed), and all contain a full kitchen complete with dishwasher & refrigerator/icemaker. Internet access and deluxe continental breakfast are both free; for lunch & dinner guests have only a short walk to the many nearby restaurants around Ontario Mills Mall. The hotel is renowned for its excellent customer service, and has additional facilities of a complimentary local area shuttle, a business center, 24 hour market, outdoor pool and fitness center.

5.
Holiday Inn Express Hotel & Suites Rancho Cucamonga
9589 Milliken Avenue, Rancho Cucamonga, CA 91730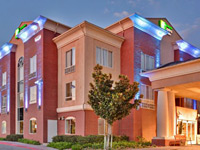 Near the east edge of the Ontario/Rancho Cucamonga area, the 93 room Holiday Inn Express is close to Ontario Mills Mall, Ontario Airport (free taxi service available) and Empire Lakes Golf Course, as well as being well connected to other north Los Angeles locations by nearby I-10 and I-15. It is regarded by many as the top hotel in town, on account of the quiet, comfortable, well equipped rooms (all with microwave & refrigerator), the friendly staff, the free hot breakfast, and the good neighborhood, which contains many shops and restaurants. For leisure, the Holiday Inn Express offers a fitness center plus a hot tub & large outdoor pool, situated in a sheltered courtyard at the rear of the property. The hotel's 17 suites provide added comfort, and extra amenities such as a whirlpool bath. Free wireless internet, a business center and 3 meeting rooms cater for those here to work.

6.
Best Western Plus Heritage Inn
8179 Spruce Avenue, Rancho Cucamonga, CA 91730-3818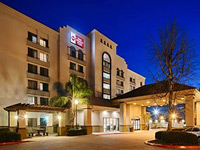 Because it sits 500 feet from the main road (Foothill Boulevard, aka Route 66), Best Western Heritage Inn provides nice, quiet accommodation, still within a short walk of many restaurants and shops, including the 60 outlet Terra Vista Town Center Mall. The hotel is one of very few near the center of Rancho Cucamonga, easily reached from any of three freeways within 3 miles (I-10, I-15, I-210). Most of the 115 well-presented rooms (on 6 floors) have great views of the
San Gabriel Mountains
a few miles north; all contain a microwave & refrigerator. Other hotel amenities include free deluxe continental breakfast, a heated outdoor pool, hot tub, exercise room, meeting/banquet facilities, guest laundry, and a free shuttle to Ontario Airport.

7.
Fairfield Inn & Suites Ontario Rancho Cucamonga
9550 Pittsburgh Avenue, Rancho Cucamonga, CA 91730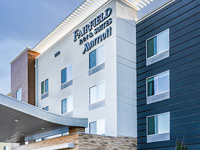 Open early 2018, the Fairfield Inn is the newest addition to the group of hotels on the southeast side of Rancho Cucamonga along Fourth Street, part of a business/commercial district that includes many restaurants. Ontario Mills Mall is a short walk away to the south, near the busy intersection of I-15 and I-10. The hotel has four storeys and 105 rooms, about half of them studio suites, with added amenities of a sofa bed and extra living space; all accommodations contain a microwave and a refrigerator. Free hot breakfast is provided each morning, and the hotel also offers the usual business, meeting and leisure amenities.