1.
Residence Inn Palo Alto Mountain View
1854 El Camino Real West, Mountain View, CA 94040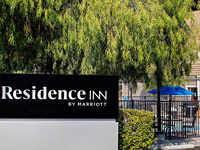 Longer stay visitors to Mountain View, Palo Alto and Sunnyvale are well catered for by the Residence Inn along El Camino Real, which offers 112 suites spread over several two floor apartment blocks in a garden setting, ringed by plenty of trees and flowers. All the rooms have a fully equipped kitchen, separate living space with a pull-out sofa bed, and a large work area; the main hotel amenities are free hot breakfast, free evening reception, heated outdoor pool, hot tub and fitness center.

2.
Hilton Garden Inn Mountain View
840 E El Camino Real, Mountain View, CA 94040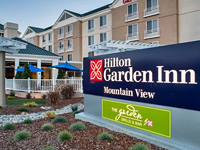 Hilton Garden Inn Mountain View has an on-site restaurant, the Great American Grill, open for breakfast, lunch, dinner & room service, plus a 24 convenience store selling snacks and meals, cookable using the microwaves in each guest room. The hotel is situated on the north side of El Camino Real, close to the 85 Freeway and within a few miles of numerous Silicon Valley businesses - other nearby locations are Sunnyvale, Cupertino, Los Altos and Santa Clara. Also available are a fitness room, pool, business center and guest laundry. The meetings facility can cater for events of up to 125 people, theater layout.

3.
Hampton Inn & Suites Mountain View
390 Moffett Blvd, Mountain View, CA 94043-4726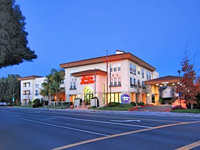 The 88 room Hampton Inn benefits from a central location in Mountain View, 0.3 miles north of the Central Expressway and the local Caltrain/light rail station. Hwy 85 runs past not far to the east, and the neighborhood is generally quite busy and fully developed, though natural scenery is within walking distance just the far side of the freeway along Stevens Creek, which is followed by a long distance trail. The hotel has a pool and Oriental-style garden at the front, with parking mostly to the rear, and is adjacent to three restaurants. Meeting space and a business center are available, plus a fitness center and indoor pool. Free hot breakfast is served each morning.

4.
Holiday Inn Express Mountain View - South Palo Alto
1561 West El Camino Real, Mountain View, CA 94040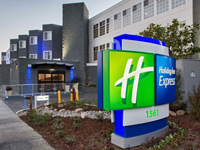 Open late 2013, the Holiday Inn Express is situated towards the west side of Mountain View, close to many Silicon Valley corporate locations such as Microsoft, Google, NASA, Siemens and Hewlett Packard. The 44 rooms are on the small side but recently renovated, and the hotel has a pleasant, quiet location partly shaded by trees. All the expected amenities are provided, including free hot breakfast, an outdoor pool, hot tub, business center and a microwave/refrigerator in each room. There are many restaurants and small shops within walking distance, along the main road.

5.
Quality Inn & Suites Mountain View at NASA Ames
5 Fairchild Drive, Mountain View, CA 94043
The Quality Inn Mountain View hotel is on the north side of town alongside US 101 one block east of the junction with Highway 85, at the edge of an extensive business/technology area bordering the Moffett Federal Air Field. Sunnyvale, Palo Alto and Santa Clara are a short drive away, as are dozens of Silicon Valley company headquarters. The hotel provides comfortable lodging at reasonable rates, has good staff, and serves above average free continental breakfast. All rooms are equipped with a microwave and a refrigerator.

6.
Ramada Limited Mountain View
55 Fairchild Drive, Mountain View, CA 94043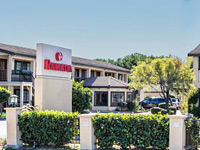 The 50 guest rooms (all equipped with microwave/refrigerator) at Ramada Mountain View are divided between four small, exterior corridor blocks centered on the limited-size parking lot, and with an outdoor pool and hot tub at the back, well away from the Bayshore Freeway, US 101, which runs right past to the north, and meets Hwy 85 a short distance west. Complimentary amenities are a daily newspaper, hot breakfast buffet and wi-fi. The hotel also has a mini mart, just off the bright, spacious lobby, plus a fitness center and one meeting room.

7.
Super 8 Mountain View
1665 El Camino Real, Mountain View, CA 94040
The Super 8 is a good choice for budget-priced lodging in Mountain View; the only amenities are free continental breakfast, free wi-fi and basic business services, but the accommodations are nice and clean, and the motel has a good location along the main road through town (El Camino Real), within a few miles of four major freeways: I-280, US 101, Hwy 85 and Hwy 237. There are many restaurants and shops nearby. Most rooms face east, looking across the parking lot; they are on two floors, entered by exterior corridors.