1.
Fairfield Inn Mission Viejo Orange County
26328 Oso Parkway, Mission Viejo, CA 92691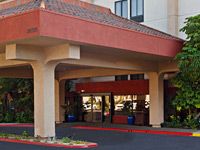 Reasonable rates, clean accommodation, easy access from interstate 5 (Oso Pkwy exit), and the famous Marriott customer service are the main reasons to stay at Fairfield Inn Mission Viejo- Orange County, a new looking, 147 room hotel next to Mission Viejo Country Club. Also adjacent are a gas station and restaurant, with many shopping outlets (and a metro station) 1.5 miles south at Mission Viejo Mall. The five floor hotel has a sheltered outdoor pool and hot tub, on the sunny south side of the property, while inside are a fitness center, business center, meeting room and a dining area for the free continental breakfast, which includes a hot sandwich.