1.
Hilton Waterfront Beach Resort
21100 Pacific Coast Hwy, Huntington Beach, CA 92648-5307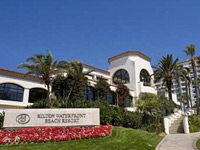 The entrance to Hilton Waterfront Beach Resort is just 350 feet from the beach, albeit separated by the twin carriageways of Hwy 1, and a parking lot just beyond, and most of the 290 rooms & suites enjoy spectacular views of the Pacific Ocean, from their private balconies. Huntington Beach Pier is half a mile away. The on-site restaurant/lounge (Shades) is open all day, and provides poolside service; there is also a market selling drinks, snacks, made-to-order sandwiches and other items. The full service hotel offers all the expected leisure and business amenities including extensive meeting space, catering for single events of up to 800 people.

2.
Hyatt Regency Huntington Beach Resort and Spa
21500 Pacific Coast Highway, Huntington Beach, CA 92648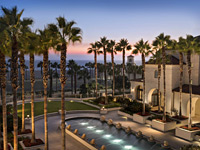 The Hyatt Regency in Huntington Beach has a spectacular location facing the Pacific Ocean, at the junction of Beach Boulevard with Hwy 1; a large, fully-featured hotel extending nearly a third of a mile along the seafront. The 517 guest rooms & suites are divided into several blocks arranged around landscaped, courtyard gardens which, like the architecture and decor, have a authentic Spanish style. There is one main, lagoon-type swimming pool, three smaller pools set amidst rocky grottos, and a water playground featuring slides, whirlpool and wading pool. Access to the nearest beach (400 feet) is via a footbridge over the adjacent highway. Pacific Waters Spa includes 17 treatment rooms and offers many services. The hotel has five food & beverage outlets onsite and is within walking distance of several more.

3.
Springhill Suites Santa Ana Huntington Beach
7872 Edinger Avenue, Huntington Beach, CA 92647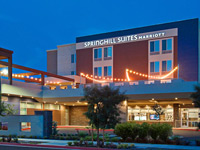 Accommodations at Springhill Suites Huntington Beach comprise 127 well-equipped studio suites, contained within a newly built (summer 2017), four story building in the Washington district, 5 miles north of the Pacific Ocean at Huntington Beach. Santa Ana is 8 miles east. The hotel is accessed from the Edinger Avenue exit of the San Diego Freeway (I-405), and is just across the street from Bella Terra Mall, which includes many dining outlets. Daily hot buffet breakfast and wi-fi are complimentary. Amenities include an outdoor pool, fitness center and conference rooms.

4.
Best Western Regency Inn
19360 Beach Blvd, Huntington Beach, CA 92648-2502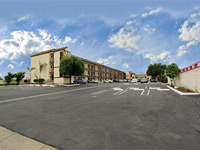 Because it lies several miles inland, amidst the many shops and restaurants along Beach Boulevard on the north side of Huntington Beach, rates at Best Western Regency Inn are relatively low, yet the hotel offers a good range of facilities, together with nice clean rooms and friendly staff. There are 63 elegant rooms available, all containing a microwave & work desk, some with a private sauna. Free continental breakfast is served each morning. The 3 floor building is surrounded by well kept gardens, and has a decent-sized pool and hot tub at one side; nearby attractions include Loehmann's Plaza (1 mile), Huntington State Beach (2.5 miles) and Huntington Central Park (2 miles)

5.
Comfort Suites Huntington Beach
16301 Beach Blvd, Huntington Beach, CA 92647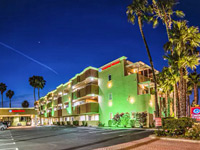 Comfort Suites Huntington Beach is part of a busy commercial area along Beach Boulevard near the I-405 intersection - close to many shopping and dining outlets including Huntington Beach Mall 3 blocks north and Westminster Mall 2 miles up the interstate. The hotel is a typically clean, safe and well managed establishment offering all the expected amenities - free deluxe continental breakfast, free internet access, fitness center, guest laundry, and a pool/hot tub, in a sheltered enclosure well away from the main road. Lunch and dinner is available at the adjacent Jack in the Box restaurant. Rooms are above average in size, and contain a refrigerator/microwave; guests can also stay in one of several themed suites.

6.
Quality Inn & Suites Huntington Beach - Fountain Valley
17251 Beach Blvd, Huntington Beach, CA 92647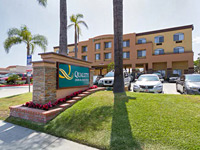 Although located along busy Beach Boulevard on the north side of Huntington Beach, accommodations at the Quality Inn & Suites are nice and quiet, as the property sits back a little from the main road, accessed by exterior corridors around the sheltered parking lot, which is entered via a driveway through the front of the building. The small outdoor pool is also at the rear. There are several restaurants nearby, in the largely residential surroundings, and various large stores between 0.3 and 1.5 miles north. A few of the guest rooms contain a hot tub bath; all have a microwave and refrigerator. Breakfast (hot) and wi-fi are complimentary.