1.
TownePlace Suites El Centro
3003 South Dogwood Avenue, El Centro, CA 92243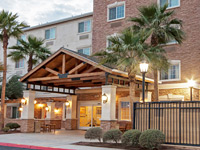 Newly built TownePlace Suites El Centro is situated next to another Marriott property (Fairfield Inn), alongside Imperial Valley Mall on the southeast edge of El Centro, 0.8 miles from exit 116 (S Dogwood Road) of interstate 8. The property opened in February 2009. Contained within are 80 suites in three floor configurations, all with separate areas for living, sleeping, working and cooking - this latter in a full kitchen featuring a microwave, refrigerator, stove & dishwasher. Services for extended stays include guest laundry and a convenience store. Free full breakfast is provided.

2.
Clarion Inn El Centro
1455 Ocotillo Drive, El Centro, CA 92243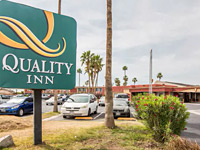 The Clarion Inn is a southwestern El Centro hotel, situated at the edge of a residential area beside I-8 exit 114, Imperial Avenue. There are several restaurants nearby (and one on-site) but a better selection can be found one mile east. The Clarion has two interior corridor floors and 145 rooms, some looking out over the central garden/pool, and all quite well equipped, with a microwave, refrigerator, plasma TV and free internet access. The hotel can cater for meetings & events, and has other amenities of free continental breakfast, an exercise room, hot tub and guest laundry.

3.
Holiday Inn Express Hotel & Suites El Centro
350 Smoketree Drive, El Centro, CA 92243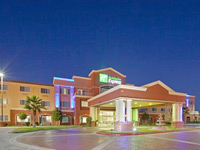 Generally thought to be the best hotel in El Centro, the Holiday Inn Express occupies a handsome, red and cream building situated in a residential district near the south edge of town, close to exit 115 of I-8 but set back a little from the highway for a quieter stay. The hotel has 3 floors, 100 rooms and an outdoor pool at the rear, surrounded by well kept gardens with a few palm trees. The center of El Centro is a mile north along 4th Street; here are found most of the restaurants and bars though there are at least 4 fast food places around the interstate exit. Other hotel amenities include free hot breakfast buffet, a fitness center, guest laundry and rooms with microwave & refrigerator.

4.
Best Western John Jay Inn
2352 S 4th Street, El Centro, CA 92243-6002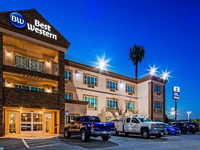 The Best Western in El Centro is at the southeast corner of town, just next to exit 115 of I-8 (Corfman Road), on the edge of the flat irrigated farmland that occupies large areas of this part of far south California. The hotel is within a mile of Broken Spoke Country Club (formerly the Desert Hills Golf Course), Imperial Valley Mall and Desert Gardens Park. The 58 rooms are on 3 floors, and each has a microwave, refrigerator, ironing facilities and free internet access. Rooms have views over the parking area, the hotel's outdoor pool, the one nearby restaurant (IHOP), or the interstate which runs just to the north.

5.
Fairfield Inn & Suites El Centro
503 Danenburg Drive, El Centro, CA 92243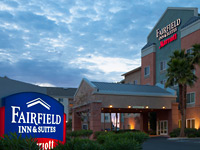 Open 2007, El Centro's Fairfield Inn & Suites is a modern, beautifully clean hotel right next to the Imperial Valley Mall - the main shopping center of southeast California - half a mile away from I-8 (exit 116), and 3 miles from the town center. The 88 rooms (on 4 floors) are all bright and spacious, containing a microwave, coffee maker and ironing facilities. The hotel's cafe serves free hot continental breakfast, with other dining available at a number of restaurants by the mall. For relaxation, the Fairfield Inn offers the three main options of pool (indoor), hot tub and exercise room.
6.
Comfort Inn & Suites El Centro
2354 South Fourth Street, El Centro, CA 92243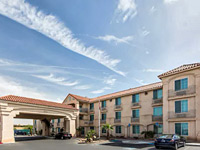 The main amenities at El Centro's Comfort Inn hotel are an outdoor pool/hot tub, exercise room, sauna, cocktail lounge, refrigerator/microwave in each room, and free continental breakfast. West-facing rooms have views over the completely flat countryside that extends for many miles around El Centro, land which is farmed for a few miles then becomes sandy desert around the
Jacumba Outstanding Natural Area
, 18 miles away. The inn is located just southwest of I-8 junction 115 (4th Street); nearby are at least six restaurants, and the Imperial Valley Mall which has over 80 stores, a cinema and many more places for dining.

7.
Rodeway Inn El Centro
455 Wake Avenue, El Centro, CA 92243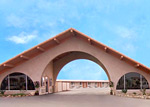 On the south side of El Centro, the Rodeway Inn has quite a pleasant location on the edge of open land, close to but not right next to the interstate (access is from exit 115 - Corfman Road, CA 86). There is supermarket just opposite, various restaurants close by, and the Broken Spoke Country Club 0.2 miles east. The hotel is a rather aged single story building with 49 rooms (all containing microwave & refrigerator), looking inwards over a courtyard/parking area plus small outdoor pool. The place is generally clean, staff welcoming, and the free continental breakfast is above average in quality.

8.
Motel 6 El Centro
395 Smoketree Drive, El Centro, CA 92243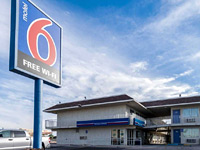 Budget-priced lodging is provided in El Centro by the 110 room, exterior corridor Motel 6, on the north side of Interstate 8 at the 4th Street exit. Half the rooms have views over the central courtyard garden and outdoor pool, while the remainder look out across a small group of restaurants, gas stations and other hotels, on the south edge of the city. Amenities are free wi-fi, free coffee and a microwave/refrigerator in all guest accommodations, which are brightly decorated and equipped with modern furnishings.

9.
Super 8 El Centro
1575 Ocotillo Drive, El Centro, CA 92243
Super 8 (formerly Howard Johnson) El Centro is a small exterior corridor motel of 46 rooms, most facing north overlooking the parking lot, outdoor pool and the quiet residential street beyond. Access is from the nearby Imperial Avenue exit of I-8 - on the southwest side of town, 2 miles from the center. The usual two complimentary amenities of wi-fi and continental breakfast are available, plus a fitness center, business center and hot tub.