1.
Courtyard San Diego El Cajon
141 N Magnolia Avenue, El Cajon, CA 92020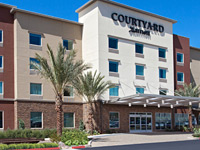 The Courtyard is the only Marriott hotel in El Cajon, open spring 2018 - located along Magnolia Avenue, opposite the Plaza shopping center. The nearest Interstate 8 exits are half a mile north and one mile west. The hotel has 120 guest rooms and 2,000 sq ft of function space, with leisure amenities of an indoor pool, whirlpool and fitness center. The onsite Bistro restaurant is open for breakfast, dinner & evening drinks; for other meals there are numerous restaurants within walking distance, most along Main Street one block south.

2.
SureStay Plus Hotel by Best Western El Cajon
1355 E Main Street, El Cajon, CA 92021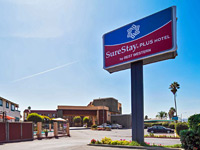 Towards the east side of El Cajon along Main Street, the SureStay Plus Hotel occupies a three floor, exterior corridor building with an elegant design, set amidst quite spacious grounds. Some of the 47 rooms & suites enjoy views eastwards towards the wooded hills of the Cleveland National Forest. The hotel adjoins a restaurant/lounge, and is close to shopping a little way north along Main Street, on the far side of Interstate 8. Free hot breakfast is served, while for recreation the Best Western offers an outdoor pool and a hot tub.

3.
Best Western Continental Inn
650 N Mollison Avenue, El Cajon, CA 92021-5618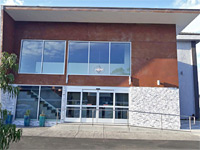 Best Western Continental Inn has a central location in El Cajon just north of I-8 exit 15 (Mollison Avenue), not far from the junction with the San Vicente Freeway, in a mixed residential/business district close to various large stores including those of Parkway Plaza, one mile west. The hotel has 95 rooms & suites, in two 3 floor blocks, one of which is adjacent to the interstate so some of its rooms are liable to be rather noisy. Otherwise the inn has all the expected Best Western qualities and amenities, including an exercise room & outdoor pool, free continental breakfast, and a refrigerator/microwave in each room.

4.
Days Inn El Cajon East San Diego
683 North Mollison Avenue, El Cajon, CA 92021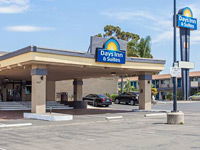 One of several mid range hotels along Interstate 8 on the north side of El Cajon, the well reviewed Days Inn offers the standard amenities of free continental breakfast (including hot waffles), free internet access, an outdoor pool and a microwave/refrigerator in all rooms. The inn has the older, two floor, exterior corridor design, with half the rooms looking inwards over the courtyard and pool. There are several restaurants and gas stations close by, and a good selection of shopping centers in the neighborhood including Parkway Plaza, one mile west.

5.
Travelodge El Cajon
425 W Main Street, El Cajon, CA 92020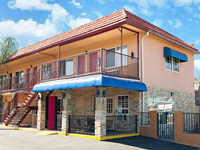 The Travelodge is typical of several small motels in El Cajon, offering simple, exterior corridor lodging with only the basic amenities of complimentary continental breakfast and free wi-fi. All guest rooms contain a microwave and refrigerator and have views inwards over the palm tree-lined parking lot, and across to an outdoor pool at the front, beside the access road (Main Street). This location is close to the center of El Cajon, within a short walk of many restaurants, bars and shops. The nearest Interstate 8 exits are 16 and 17.

6.
Econo Lodge Inn & Suites El Cajon San Diego East
588 N Mollison Avenue, El Cajon, CA 92021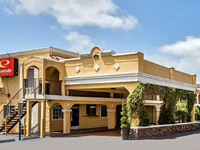 Guest rooms at the exterior corridor Econo Lodge El Cajon look inwards over a rather cramped parking lot and outdoor pool/whirlpool, though there is more parking space around the outside. The property site behind a gas station and restaurant at the Mollison Avenue exit of Interstate 8, near the Hwy 67 intersection, within walking distance of two city parks and a selection of shops. Parkway Plaza is one mile west. Wi-fi and daily continental breakfast are provided free of charge.

7.
Super 8 El Cajon
471 N Magnolia Avenue, El Cajon, CA 92020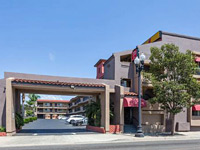 Just south of the major I-8/CA 67 intersection in the middle of El Cajon, the Super 8 provides simple, cheap accommodation within half an hour's drive of most attractions in the San Diego area. The immediate neighborhood is a busy commercial district with many restaurants and shops, including Parkway Plaza on the far side of the interstate. The inn has a typical L-shaped, exterior corridor motel design, the 47 rooms (on three floors) overlooking the carpark with a small outdoor pool at one side. The standard free continental breakfast is available.

8.
Rodeway Inn & Suites San Diego East
1250 El Cajon Blvd, El Cajon, CA 92020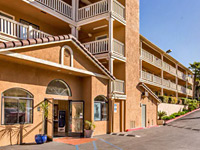 El Cajon's Rodeway Inn is a well regarded, budget-priced hotel, situated in a wooded, hilly area on the west side of town, adjacent to I-8 exit 15 (El Cajon Boulevard), and 15 miles from the center of San Diego. All of the 96 rooms (on three exterior corridor floors) contain a refrigerator and a microwave, and have views across the palm tree-lined grounds towards the enclosing grassy hills. For leisure, the hotel offers a small outdoor pool and hot tub.

9.
Motel 6 San Diego - El Cajon
550 Montrose Court, El Cajon, CA 92020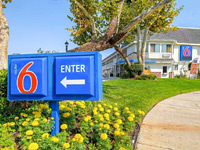 The modern guest rooms at Motel 6 El Cajon are equipped with stylish furniture and are decorated with bright, bold colors. The building though is relatively old; a two floor property of several exterior corridor blocks, at the edge of a residential estate by the Magnolia Avenue exit of I-8, where the interstate is joined by the San Vicente Freeway. Meals are available from an adjacent Chinese restaurant, while onsite facilities are wi-fi, an outdoor pool, coin-operated laundry and free morning coffee.