Sites in Arizona
NPS - Landscapes

Canyon de Chelly
Chiricahua
Grand Canyon
Lake Mead
Organ Pipe
Petrified Forest
Saguaro
Sunset Crater
NPS - Historic Sites

Casa Grande Ruins
Coronado
Fort Bowie
Hubbell Trading Post
Montezuma Castle
Navajo
Pipe Spring
Tonto
Tumacacori
Tuzigoot
Walnut Canyon
Wupatki
Other Places

Apache Trail
Ironwood Forest NM
Meteor Crater
Route 66
Sedona
Sonoran Desert NM
Tonto NF
Vermilion Cliffs NM
Arizona Site Map

Site Search
Photograph Search

South of the Salt River and west of interstate 10, the suburbs of Phoenix become semi-rural, as scattered farms and fields mix with the housing estates and shopping centers. But all development ends at the foothills of the South Mountains, a narrow range 11 miles across that forms a natural boundary between Phoenix to the north and the Gila River Indian Reservation to the south. The mountains are protected as a city park, the largest in the USA, and besides general sight-seeing and photography are popular for hiking, cycling and horse riding, offering a network of well-maintained trails that criss-cross the rocky slopes. The hills bear typical Sonoran Desert vegetation of ocotillo, palo verde, creosote bushes, mesquite, saguaro, opuntia and other smaller cacti, and are covered with a mixture of clean, coarse sand and weathered granite boulders; together with the frequent far-reaching views over the flat Phoenix suburbs, the park is pleasantly scenic, and is the nearest unspoilt natural location to the city center. The place is visited mostly by local residents rather than people on vacation, partly as it is not well publicized and not en route to any more major destination. Entrance to the park is free, though fees are charged to use some of the facilities including outdoor meeting venues and party ramadas.




The Park:

South Mountain Park access points include Desert Foothills Parkway and Knox Road on the south side, Pima Canyon Road at the eastern edge and 24th Street in the northeast, but the main entrance is half way along the north side of the mountains, via Central Avenue - see map below. The last mile or so of this route pass newish housing development until the road narrows as it approaches the edge of the hills, bending west and reaching the entrance station. Just before are a few ruined buildings from Scorpion Gulch, a trading post in operation from 1936 to sometime in the 1970s, and now listed on the Phoenix register of historic properties. The park road continues southwest, passing various administration buildings, the South Mountain Environmental Education Center (a museum, library and visitor center), several picnic areas and a number of trailheads, then forks after 2 miles. The right branch (San Juan Road) follows a valley to a viewpoint of desert lands to the northwest, while the left branch (Telegraph Pass Road) - the most popular and scenic - climbs towards the top of the mountains to two high elevation viewpoints, Dobbins Lookout and then Buena Vista, where it terminates. Both overlooks have fine views of greater Phoenix, from Avondale in the west across the tall buildings of the city center and east over the airport towards Tempe and Scottsdale. The viewpoints, and the park in general, are clean and free of litter, though flies can be a problem in summer.



Hotels:

The nearest hotels to the South Mountains are in Phoenix to the north and Chandler to the east.


| | |
| --- | --- |
| Main attractions: | Largest city park in the US - a rocky mountain ridge, within Phoenix city limits yet still relatively unspoilt, covered by many cacti and giving excellent views across the urban surroundings. 60 miles of trails, popular for hiking, cycling and horse riding |
| Nearest city with hotels: | Chandler |
| Management: | City of Phoenix |
| Location: | 33.355983, -112.072048 (entrance on Central Avenue) |
| Seasons: | Winter, spring and fall are most popular. Summers are too hot for long hikes |

South Mountain Park - Hiking


Trails - map descriptions of all trails
Hidden Valley - a sheltered cactus-filled basin

South Mountain Park - Photography










Comments



Map of South Mountain Park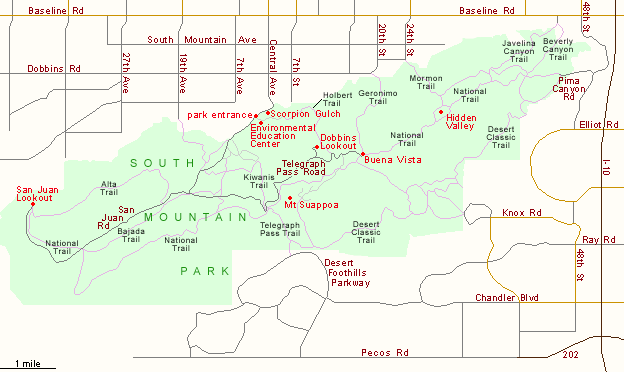 Hiking:
The South Mountains have nearly 60 miles of trail, ranging from short nature walks near the entrance to the 14 mile
National Trail
which crosses the whole length of the park, mostly on or near the ridgeline. The eastern half is often quite busy, the western stretch (after Telegraph Pass) much less so. Junctions every mile or two allow shorter sections to be hiked, and perhaps the best short walk in the park is the 1.5 miles from Buena Vista to
Hidden Valley
, a sheltered cactus-filled basin - see the
full hike description
. Other trails include the following:
Alta Trail - amongst the least traveled paths in the park, the 4.5 mile Alta Trail climbs to the top of the Ma Ha Tuak Range that makes up the northwest part of the South Mountains and follows all along the top of the ridge.


Bajada Trail - the 2 mile Bajada Trail runs close to the San Juan Road near a sizeable dry wash, encountering a variety of desert plants while staying fairly level.


Beverly Canyon Trail - from a large parking area at the end of S 46th St, this path ascends gradually up a valley and joins the Pima Canyon Road after 1.5 miles.


Desert Classic Trail - on the south side of the park, this lesser-used path links the Pima Canyon and Desert Foothills Parkway entrances, staying fairly level as it winds past the edge of the mountains, over many dry washes. The total length is 9 miles.


Geronimo Trail - for 1.6 miles this trail climbs the bouldery hills on the north side of the mountains, between Dobbins Road (the far east end) and Buena Vista lookout.


Holbert Trail - the Holbert route takes hikers 800 feet up into the hills, beginning near the park entrance and reaching Telegraph Pass Road near Buena Vista viewpoint after 2.5 miles.


Javelina Canyon Trail - this is one of several routes that link with the National Trail, starting at the northeast corner of the park along 46th St and climbing along a dry wash for 1.7 miles to the intersection, at the end of the dirt portion of Pima Canyon Road.


Kiwanis Trail - at one mile Kiwanis is the shortest of the paths that climb the north mountain slopes; it links Telegraph Pass Road with a side road close to the park entrance.


Mormon Trail - a 1.1 mile route that climbs about 1,000 feet from the 24th St entrance to an junction with the National Trail at the edge of Hidden Valley, the Mormon Trail forms part of a testing 6 mile loop together with the Geronimo Trail.


Telegraph Pass Trail - short (1.5 miles) and partly paved but fairly steep, the Telegraph Pass Trail runs between the southern park entrance just off Desert Foothills Parkway and a mountain pass along the park road to Dobbins Lookout.