Youngtown
is the smallest and one of the more recently established suburbs of Phoenix, founded in 1954 with the intention of providing a quiet community for retirees. The town occupies a rectangle of land about 3 miles by 1 mile, bordered by 111th Avenue to the east, with the more extensive residential estates of
Sun City
beyond, and the Agua Fria River to the west, extending northwards to
Grand Avenue
where Youngtown's two hotels are located. The one shopping center in the area is a few blocks south.
Map of Hotels in Youngtown, AZ

1.
Motel 6 Phoenix Sun City - Youngtown
11133 Grand Avenue, Youngtown, AZ 85363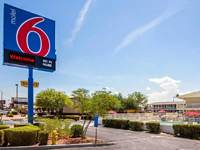 In northwest Phoenix midway between El Mirage, Sun City and Youngtown, the Motel 6 has the standard design for this brand of two floors and exterior corridors, the rooms looking out over a typical urban neighborhood of shops and restaurants, alongside Grand Avenue (US 60). Guest amenities include a small outdoor pool, wireless internet access, cable TV and free coffee. Rates are low, but the place is generally clean and friendly.