Pinetop
, or Pinetop-Lakeside, enjoys a quiet, wooded location along Hwy 260, the more scenic of the two routes between
Show Low
and
Eagar
in east Arizona, the other being US 60. The town sits right on the edge of the
Mogollon Rim
at an elevation of 6,800 feet, and is officially known as Pinetop-Lakeside, incorporating an adjacent community just to the west. Most of the surrounding land is part of the
Sitgreaves National Forest
, though
Fort Apache Indian Reservation
approaches close to the south. There are several lakes bordering the town, most open to fishing, and some lined by private residences, this being a popular location for summer homes, for people wanting to escape the heat of the southern deserts. The few hotels, shops and restaurants in the area are spread out along 7 miles of the main road.
Map of Hotels in Pinetop-Lakeside, AZ

1.
Holiday Inn Express Pinetop
431 E White Mountain Blvd, Pinetop, AZ 85935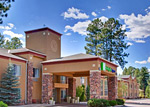 The Holiday Inn Express hotel of Pinetop, AZ, sits along highway 260 surrounded by the pine-clad hills of the Apache Sitgreaves National Forest. This inn has just 40 rooms (all containing microwave & refrigerator), plus an indoor pool, fitness center, sauna, hot tub, newsstand, business center and meeting space. Free breakfast is served, including a selection of hot items. The place has a good reputation for the clean, comfortable rooms and the helpful staff. Downtown Pinetop is one mile to the southeast, while the neighboring community of Lakeside is 2 miles northwest.

2.
Best Western Inn of Pinetop
404 E White Mountain Blvd, Pinetop, AZ 85935-7032
At the north end of Pinetop (along White Mountain Boulevard), backing on to the Apache National Forest, the Best Western Inn of Pinetop has a peaceful location, and is a good base from which to explore the surrounding lakes, forests and mountains of the Mogollon Rim. Pinetop is a small town but there are various shops and restaurants within half a mile of the hotel, which has 41 refrigerator/microwave-equipped rooms, an indoor spa, laundry and guest-use computer. Free full breakfast is provided.
3.
Comfort Inn Lakeside
1637 W White Mountain Boulevard, Lakeside, AZ 85929
Comfort Inn Lakeside is small (55 room) hotel, offering free wi-fi, free hot breakfast, a fitness center and a refrigerator/microwave in all accommodations. The location is quiet and peaceful - along the tree-lined main street through town (Hwy 260) close to a few restaurants and other businesses, and a short walk from the shores of Rainbow Lake. The slightly better range of facilities in the southern half of town (Pinetop) are 2 miles away. Rooms are on two stories, surrounded on three sides by the parking lot.

4.
Econo Lodge Inn & Suites Pinetop
458 E White Mountain Blvd, Pinetop, AZ 85935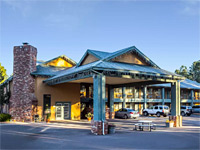 The pet friendly Econo Lodge Pinetop has a pleasant location along Hwy 260 on the east side of town, backing on to pine woodland and within walking distance of the Sitgreaves National Forest; guests can enjoy the scenic surroundings from the motel's garden and picnic area. Inside, facilities are limited to free continental breakfast, free internet access, a hot tub and a small business center. All rooms include a microwave and some have a sofa bed. There are several restaurants nearby, in both directions along the main road.

5.
Super 8 Pinetop
1202 E White Mountain Blvd, Pinetop, AZ 85935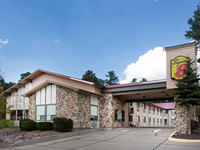 The Super 8 is a central Pinetop motel, along the main road (Hwy 260), near a selection of restaurants and small shops. Rooms are on two interior corridor floors, and have views of the good sized, tree-lined parking lot. The motel has a business center, fitness center and an indoor pool/whirlpool. Continental breakfast and wi-fi are complimentary. All rooms contain a microwave and refrigerator; snacks for cooking can be purchased from a supermarket 0.3 miles east.