The small city of
Gila Bend
is situated along Hwy 85 near the I-8 intersection (exit 115), three miles from the
Gila River
which curves from the north to the west, round the edge of the Gila Bend Mountains. Other scattered ranges dot the horizon but the immediate surroundings are flat, empty desert, apart from some irrigated land near the river. Most facilities in town are spread out along 2 miles of the main road (
Pima Street
), including about a dozen restaurants and a limited selection of lodging; the town is exactly half way (115 miles) between
Tucson
and
Yuma
, so a logical place to break the journey.
Undeveloped public land surrounds Gila Bend in most directions, including
Woolsey Peak Wilderness
to the north and
Maricopa Mountains Wilderness
to the east, part of
Sonoran Desert National Monument
. The one exception is to the south, as the desert here lies at the edge of the vast Barry M Goldwater Air Force Range, and is closed to general access.
Map of Hotels in Gila Bend, AZ

1.
Best Western Space Age Lodge
401 E Pima Street, Gila Bend, AZ 85337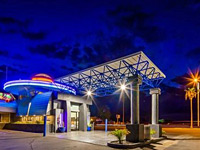 Definitely the most unusual hotel in Gila Bend, the 41 room Best Western Space Age Lodge is a special concept hotel built in 1964, one of the first Best Western properties. The space theme is reflected both in the construction and decor, most notably by a 28 foot high replica spaceship in the lobby. The hotel is situated on the south side of Pima Street in the center of Gila Bend, reached from exits 115 and 119 of interstate 8; it features free full breakfast, a pool/hot tub, onsite restaurant and meeting space for up to 30 people. The western boundary of
Sonoran Desert National Monument
is 8 miles away.
2.
Knights Inn Gila Bend
1046 E Pima Street, Gila Bend, AZ 85337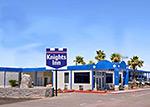 The basic but comfortable rooms at the pet friendly Knights Inn Gila Bend are divided into two exterior corridor blocks (one of two stories, the other ground floor only), separated by a good sized parking area and backing on to open desert plains to the north. Nearly facilities are limited to a few gas stations and fast food restaurants; the small town center is a few blocks west, while I-8 is 2.5 miles away (exits 115 or 119). Amenities are free continental breakfast, free wi-fi and an outdoor pool.