The easternmost hotels in
Flagstaff
are found along or close by US 89 (Route 66), in a lightly developed area of the city; the main road is lined with a selection of small shops and restaurants but some parts are residential, extending a few blocks north until the land rises abruptly at the edge of
Elden Mountain
. To the south, the road is paralleled by the railway lines, with I-40 not far beyond; access is from exit 201,
Country Club Drive
. The main shopping facility in this part of the city is Flagstaff Mall, which includes JC Penney and Sears; other major stores nearby are Home Depot and Safeway supermarket.
The developed section of Flagstaff ends one mile east of the mall, replaced by the thick pine woodland of the Coconino National Forest. Two popular park service units in the vicinity are
Walnut Canyon National Monument
(7 miles) and
Sunset Crater Volcano National Monument
(14 miles).
Map of Hotels in East Flagstaff, AZ

1.
Country Inn & Suites By Carlson, Flagstaff, AZ
3501 East Lockett Road, Flagstaff, AZ 86004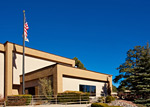 The 126 room/suite Country Inn Flagstaff occupies a modern, tree-lined building towards the east side of the city, in a peaceful residential neighborhood, along a side road one block from old Route 66. Facilities within a few minute's walk include a small shopping center and a good selection of restaurants. The hotel provides free hot breakfast each morning. Wi-fi is also complimentary, while the usual amenities of pool (indoor, saltwater), fitness center, coin-operated laundry, business center and meeting space are available. The Country Inn is one mile from the nearest interstate - I-40 exit 201 (Country Club Drive).

2.
Best Western Pony Soldier Inn & Suites
3030 E Route 66, Flagstaff, AZ 86004-3936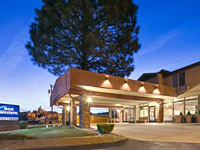 The reasonably-priced Best Western Pony Soldier Inn of Flagstaff is one of the many lodging places located on former Route 66, situated in a quiet residential area on the north side of the road, and can be reached from either exit 198 or 201 of interstate 40. Various shops and restaurants are within walking distance of the hotel, while downtown Flagstaff is 4 miles to the west. The interior corridor inn has 75 rooms (some with views of the mountains to the north) on 2 floors, with an indoor heated pool/hot tub, and a dining area for the free continental breakfast. Pets are welcome, for a small charge.

3.
Howard Johnson Inn - Flagstaff
3300 East Route 66/I-40, Flagstaff, AZ 86004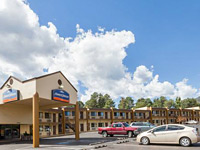 Rooms at Howard Johnson Flagstaff face east, looking out over the parking lot to an adjacent shopping center with a few restaurants - on the north side of old Route 66, 3 miles from downtown. Interstate access is from I-40 exit 198, one mile east. The exterior corridor motel has a small but sheltered outdoor pool, tucked away at the rear, and interior amenities of free wi-fi, a coin-operated laundry, a basic business center and a dining area where the free continental breakfast is served.

4.
Days Inn and Suites Flagstaff East
3601 E Lockett Road, Flagstaff, AZ 86004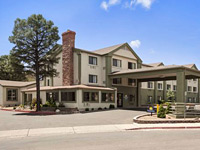 Days Inn and Suites Flagstaff East is one of the larger and more modern properties of this brand, pleasantly situated in a residential area just off Route 66, partly enclosed by mature trees. The motel provides free hot breakfast and is within half a mile of around a dozen restaurants. It also offers an indoor pool/whirlpool, free wi-fi and a business center. All rooms are equipped with a microwave, some have a refrigerator, and the suites (catering for up to 6 people) contain an extra sofa bed.

5.
Travelodge Flagstaff East
2918 E Route 66, Flagstaff, AZ 86004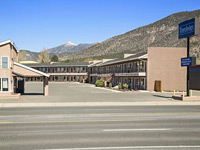 Three miles east of downtown Flagstaff on the north side of Route 66, the Travelodge is one of many small, exterior corridor motels providing budget accommodation with limited amenities, in this case free continental breakfast, free wi-fi and a microwave/refrigerator in all 43 guest rooms, which face west or south, looking out over the parking lot to the main road, and the railway just beyond. There are three restaurants adjacent; a better selection can be found a mile or so northeast, towards Flagstaff Mall.

6.
Super 8 I-40 Flagstaff Mall
3725 Kasper Avenue, Flagstaff, AZ 86004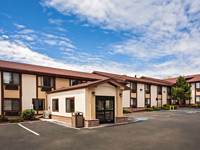 The pet friendly Super 8 of east Flagstaff accommodates guests in a clean-looking, interior corridor building just off Route 66 (Santa Fe Avenue), less than a mile from Flagstaff Mall and Interstate 40. Free continental breakfast is provided and there are half a dozen restaurants within one block to provide other meals. The motel is surrounded by a good-sized parking lot and is partly enclosed by trees; inside, facilities are free wi-fi and a basic business center. Accommodations include a selection of family suites with bunk bed and sitting area, catering for up to 6 people.